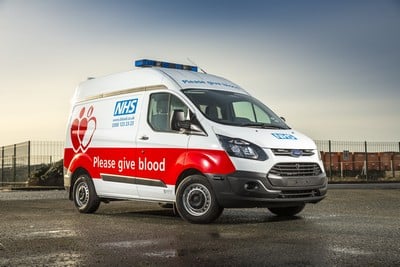 Ford vans already dominate the fleet of vehicles in the NHS Blood and Transplant Service (NHSBT) and that is to continue with the addition of the new Ford Transit Custom.
The fleet already uses the Ford Focus estate and Ford Transits that have been specially adapted for the key role in delivering and collecting blood supplies around the UK.
Indeed, around two thirds of the NHSBT fleet of 500 vehicles are Fords.
Ford Transit Custom is the van of choice for NHSBT
Larry Banning, the NHSBT fleet's national service manager, said: "We are sure the Ford Transit Custom will meet our expectations.
"The Ford Transit is recognised as the best in class and it's a vehicle that fits our purposes and there's an excellent network support and spare parts supply."
Before entering service with NHSBT, every van has its emergency service delivery added to it and there's a range of special storage equipment fitted.
In addition, every van in use in the fleet is also lined with a waterproof resin that enables staff to power-wash the interior to help the vehicle reach the cleanliness standards and the audited levels of hygiene before they can be used in service.
Ford Transit Custom plays a vital role around the UK
The fleet's Fords are used in every stage of the process of collecting blood from village halls and schools as well as other venues before transporting the fresh blood supplies to regional processing sites for processing, testing and sorting.
Those supplies are then delivered to hospitals as part of routine orders or, if there is an emergency, the blood will be delivered under blue light cover.
Terry Adams, Ford's direct sales manager, said: "This is a life-saving service that any of us might need and it's reassuring that its faith is placed the safety and reliability of the Ford Transit."
Indeed, the Ford Transit Custom scored an impressive five out of five stars when reviewed by commercialvehicle.com.
Our review team was impressed with its all-round offering especially in a year that had an unusually high number of new vans being launched by manufacturers.
The review praised the range of vehicles available and comfort levels and load space.
The Ford Transit Custom is also very good for crash safety and has positioned itself as being one of the UK's most popular 2 tonne vans.