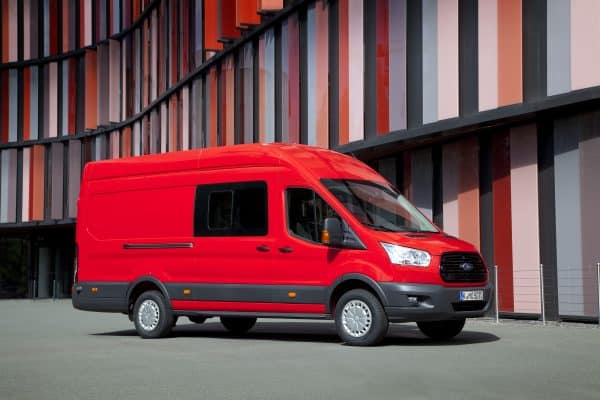 It has taken two years but the Ford Transit range will be completed with a full range of bodies for customers.
These will include chassis double cab, double cab-in-van and an extra long L5 version.
The new variants will make their debuts at this year's Hannover Commercial Vehicle Show and will take the Ford Transit line-up to an impressive 450 models.
Ford Transit line-up is now complete
The Transit derivatives can be ordered from Transit centres as well as Ford dealerships.
The two year rolling programme of introducing new vehicles has led to Ford becoming the fastest growing commercial vehicle brand and with it the firm now has freshest line-up of light commercial vehicles in the industry.
The flagship van is the 2tonne Ford Transit which will carry payloads of between 600 kg to 1,000 kg.
After its launch in spring this year, the Transit included a standard van, minibus and chassis cab versions.
This now includes the double cab which will accommodate seven people and the L5 which is the longest transit ever built.
The firm is also enjoying success with its compact Ford Transit Courier which is proving popular for small businesses and firms with urban delivery routes.
Ford is also offering its advanced intelligent all-wheel drive system on the new transit which is a class leading offering of driving dynamics and traction.
The new system fully integrates with the van's electronic stability control and traction control systems and with the AWD lock mode it provides maximum traction in extreme conditions.
Ford Transit revamp leads to sales boom
The boom in sales has seen a 12.5% increase over last year, that equates to 123,000 commercial vehicle sales in Europe.
In real terms, the Ford Transit Custom doubled its sales while the Transit Connect saw sales rocket by 53%.
Ford now accounts for nearly 11% of the European commercial market, its highest level since 1997.
A spokesman for Ford said: "With more than 450 versions, multiplied by the different options, the all-new Ford transit can tackle just about any task."