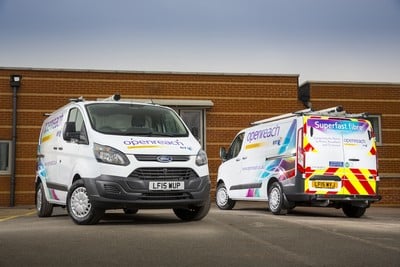 BT has taken delivery of another 1,000 Ford vans in the first three months of 2015 to help meet a growing demand for the firm's services and products in the UK.
The order has seen more than 500 Ford Transit Custom vans being delivered along with 200 Transit vans.
BT has also taken delivery of another 300 Ford Fiesta vans.
Some of the new vans are earmarked for replacing existing service engineer vehicles while others will be new to the fleet to help deliver BT services.
Ford vans deliver BT needs
This is part of BT's biggest ever fleet regeneration they've ever undertaken and is part of a comprehensive review to help deliver its growing needs for the next seven years.
BT says that it began its review by designing the most ergonomic racking which is also the safest available for its vans and then looked to the vehicles that could accommodate their requirements.
In addition, they also looked at the whole life costs, CO2 emissions, safety as well as technology and after sales delivery.
The firm's senior customer relationship manager, Mike Langford, said: "If we keep a vehicle for seven years then we need to be assured that we will get the spare part, at the right price, through its life."
BT call on Ford vans for costs and reliability
The big issue for BT is that their large order would need to be delivered on a tight schedule to help them meet their demands.
This means that they are now able to put more than 2,000 extra customer service engineers on the UK's roads.
Service engineers working at BT's exchange buildings will be driving the Ford Fiesta vans while customer service engineers will be using the Ford Transit Custom because they have more equipment to carry.
BT has opted to use the long wheelbase, high roof panel Ford Transit which is a marked shift away from its previous choice of chassis cabs.