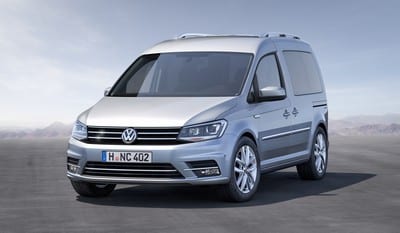 It has been a huge best seller for the firm and now the fourth generation VW Caddy has taken a bow and looks set to be just as popular.
Among the improvements for the revamp are a new exterior design and improved driver assistance systems.
VW have also reduced fuel consumption and emissions in its new Caddy with the introduction of newly developed EU6 engines.
VW Caddy is a huge bestseller
Over the course of 11 years, the previous generation of the VW Caddy sold more than 1.5 million models around the world.
The new model will also do very well; the Caddy is one the most popular small vans around, especially now it is powered by a four cylinder 2.0litre diesel engine with three power outputs.
Opt for the VW Caddy BlueMotion and owners will find it should return more than 70mpg which will be a boon for delivery firms making lots of inner-city drops.
As mentioned, this new Caddy also features lots of extra new safety features which very few competitors are able to match.
Equipment for the new VW Caddy
They include city emergency braking which includes a scanning system that will detect an obstacle and apply the brakes accordingly.
There's also a driver alert which will encourage a driver to take a break and notices when a driver's normal behaviour behind the wheel changes.
Options include a heated windscreen and adaptive cruise control which will help slow the vehicle down when it detects a queue of traffic
Buyers can also opt for a reversing camera and a park assist system which will help with parallel parking – again this could be of huge assistance for courier firms working in busy areas.
Style and cabin improvements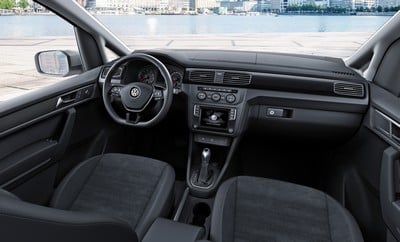 Caddy fans will notice that the new design has defined surfaces which leaves it looking stylish and with a clean, modern look that help to give it an unmistakable character.
However, step inside and the cabin is a pleasant place to spend a lot of time and it's also had redesign new shapes and lines and decorative trims.
There's also VW's new generation of infotainment kit to help these small vans be a true mobile office. The new VW Caddy is being launched in Germany in June and will head the UK later this year.