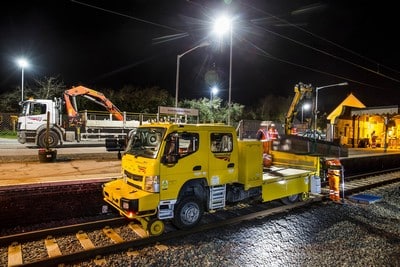 A 20-strong fleet of these Fuso Canters have been ordered by Network Rail which have been adapted for use on roads and railways.
The truck's 6.5tonne chassis has an extra set of rail wheels fitted at the rear and front which are raised hydraulically so the vehicle can be driven on normal roads.
When lowered, it can run on railway lines.
The vehicles, they are all double crew cabs, are the 4×4 Canter 6C18Ds with after sales support being provided by the Mercedes-Benz dealer network.
That's because Mercedes supports and sells the Fuso light truck range in the UK.
South Wales firm GOS Tool and Engineering did the Fuso Canter conversion
The Fuso Canter lorries have been converted by South Wales firm GOS Tool and Engineering for their unusual roles and will now carry out a range of maintenance duties.
Six of the vehicles come with dropside bodies and PM cranes to lift rails, sleepers and ballast bags.
Another 14 have been fitted with box bodies which will carry welding equipment for carrying out essential rail repairs.
The lorries have flexibility which means that operators can drive to a level crossing and then position the truck over the railway line and then deploy the wheels.
The truck can then be driven to its work site.
Rail safety is top priority
Project manager with Network Rail, Keith Ubah, said: "Safety is a top priority and the cranes will reduce significantly the amount of manual handling for the maintenance crews of heavy items. This makes life safer and easier.
"We will also benefit from reduced operating costs and increased efficiencies because the vehicles will do a job that was previously carried out by separate rail and road vehicles."
The cost savings come about because the Canters are able to carry the necessary materials to the worksite which makes repairs much easier and quicker to carry out.
Future plans for the trucks include the designing and introduction of rail trailers for each vehicle which means they will be able to carry 11tonnes of materials on the railways.
Neil Gregory, director of GOS, said: "The Canter 4×4 is ideal for this conversion, it's a low drive system, so the road wheels sit on the rails and the double drive gives traction.
"The truck has relatively compact dimensions so there's lots of space on its ladder chassis for the equipment and ancillaries."