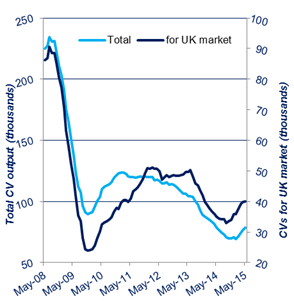 Strong demand for new vehicles in the UK and Europe has resulted in a jump in production by UK manufacturers over the last twelve months. This is both a sign of the European economy starting to make headway after the long financial slump, but also according to the UK's Society of Motor Manufacturers and Traders (SMMT), due to continued demand for high quality British engineering.
6808 trucks, buses and vans were built in the UK in May, an increase of 32.8% on the same month in 2014. 38,872 vehicles were built over the last twelve months, an increase of 24.9% compared to the previous year to date.
Over half of the vehicles built were for export, with exports increasing by nearly 70% over the last year. SMMT Chief Executive Mike Hawes said of the good news, "We have seen a steady performance in UK car manufacturing this year with volumes bolstered by a strong home market, while recovery in key European markets is helping to restore export production levels."
Looking to the future, it looks as though the domestic economy may well drive new vehicle sales along with regulation encouraging the use of lower emissions commercial vehicles. Head of automotive at accountancy firm KPMG suggested, "The strong domestic market continues to drive UK production, indeed it is still possible that new car sales in 2015 will beat the all-time record set in 2003."
This suggests that the UK economy is on the right trajectory, with overall economic trends being on the up. Last week, figures from the Office of National Statistics suggested that not only are there more jobs being created but wages and salaries increased by 2.6%.
Retooling of engine factories for the new Euro 6 emissions regulations may well be behind a brief slump in engine production, though over 1 million new engines were made in the UK last month, suggesting that overall output is still strong. Hawes said of the figures, "We are optimistic that growth will return to the sector over the coming months as UK-produced Euro-6 manufacture gets underway ahead of the September deadline and major new engine plants come on stream later in the year."
After a long slump due to the banking and Euro crisis, the economies of the region are showing signs of strong recovery. With only the Greek financial crisis overshadowing a generally positive trend in the Eurozone, the future seems bright for commercial and domestic vehicle production. The UK economy is one of the fastest growing of the G7 economies, and this is reflected in the number of new cars, vans and trucks hitting the road today.