Toyota Hilux Invincible – the legend lives on
Get a Quote on a Toyota Hilux Invincible – the legend lives on
From

£249

+VAT

per month (9+23 months)
£2241
+VAT
initial deposit
Annual Mileage: 10,000
Auto Leather Sat Nav & Solid Paint
Business/Personal Contract Hire
Non-Maintained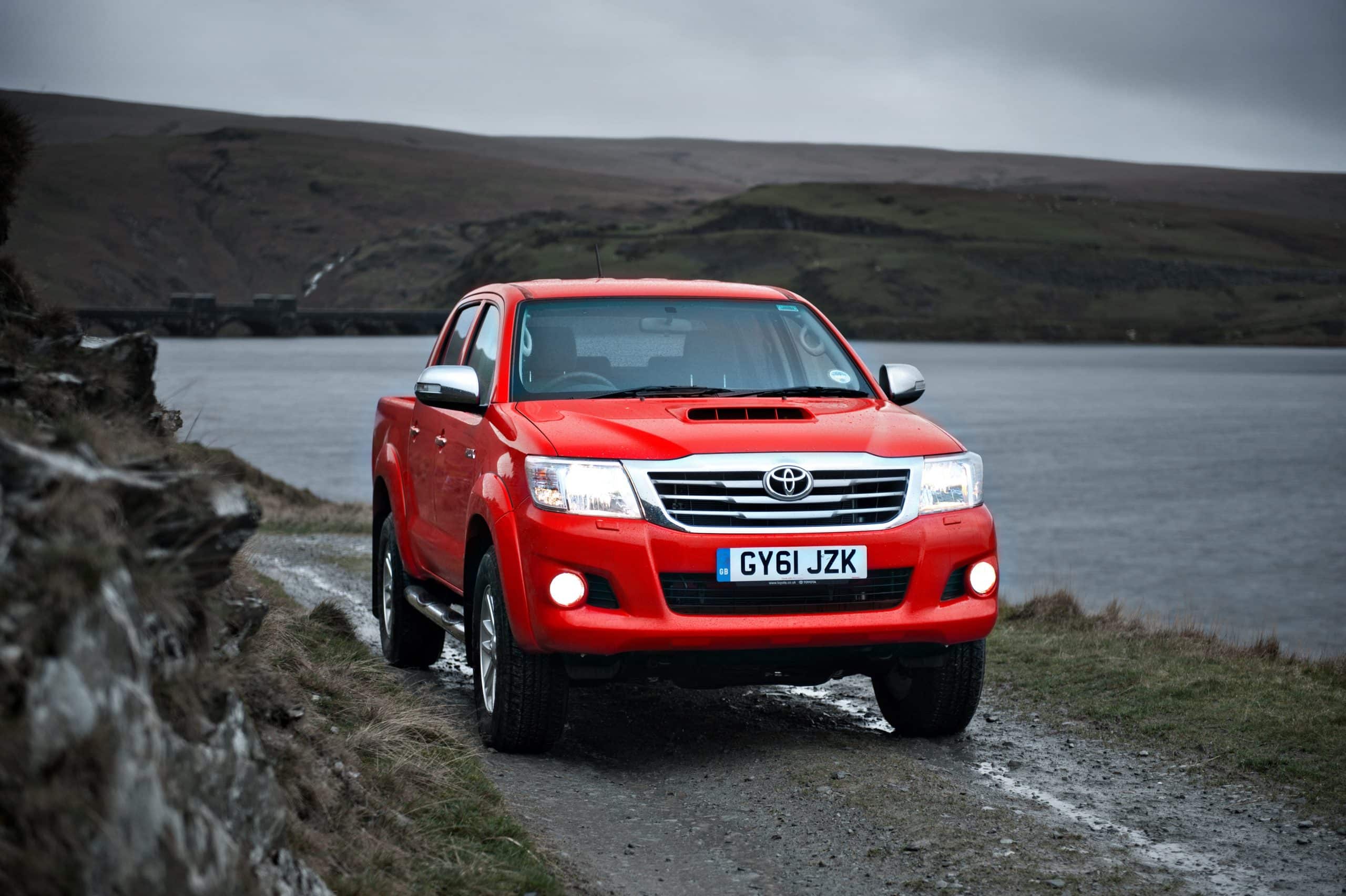 | Toyota Hilux Invincible 3.0 D4d Double Cab 171 Manual | 239.99+VAT |
| --- | --- |
| Toyota Hilux Invincible 3.0 D4d Double Cab 171 Auto | £249+VAT |
Now in its sixth generation, the Toyota Hilux Invincible is a great all-rounder that's an excellent performer off-road and cruises effortlessly at speed on motorways. There are some clever design ideas too in what is a winning combination. However, the best-selling point is that there's a lot of truck for the money.
From

£249

+VAT

per month (9+23 months)
£2241
+VAT
initial deposit
Annual Mileage: 10,000
Auto Leather Sat Nav & Solid Paint
Business/Personal Contract Hire
Non-Maintained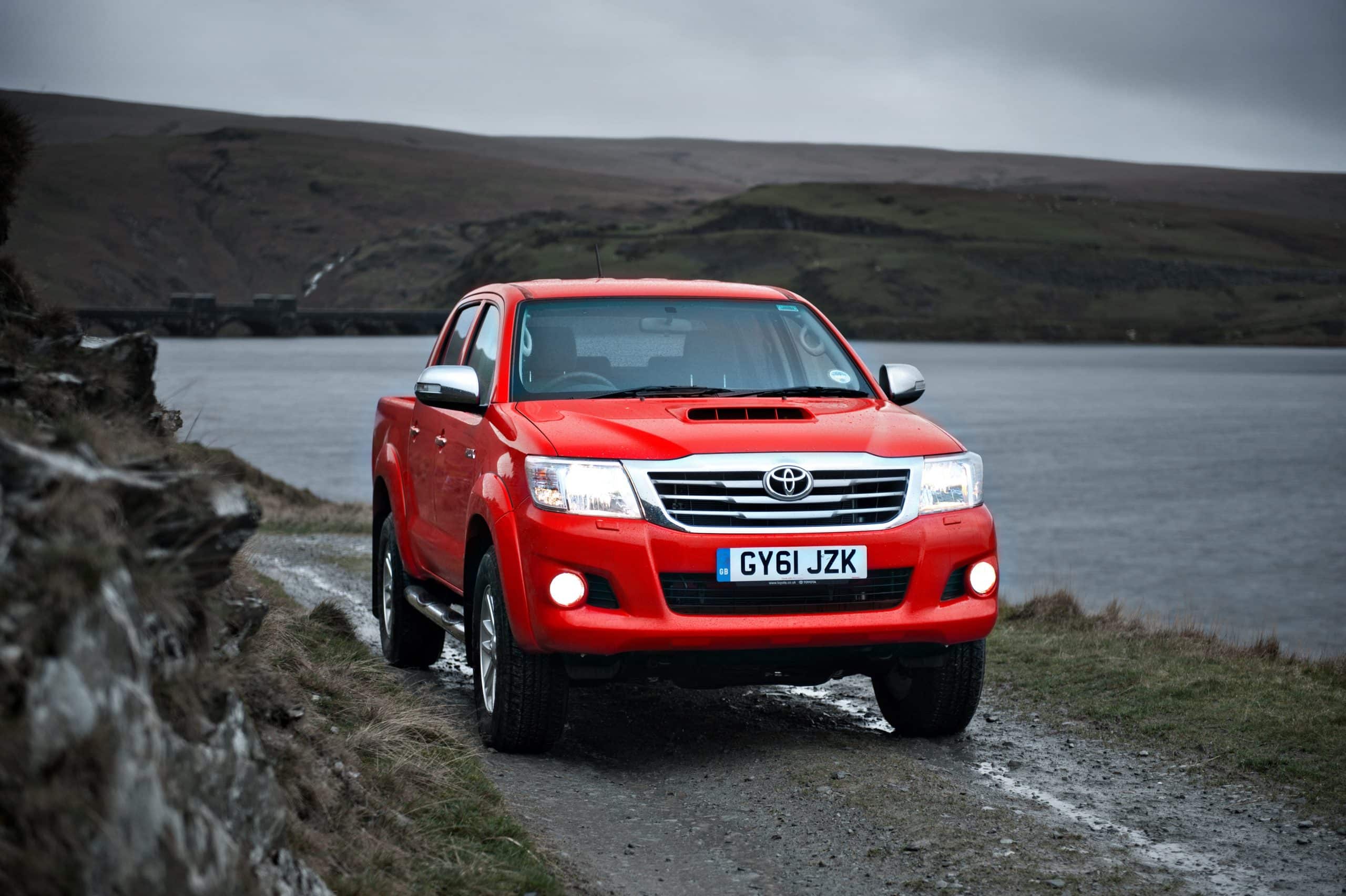 It's one of the world's best known vehicles and has built-up a reputation for being tough and reliable so how would a big car firm like Toyota improve on its Hilux offering – by simply making it better.
The Toyota Hilux Invincible is one of those vehicles that attempts to be lots of things to lots of potentially different customers and manages to succeed on many levels.
From a workhorse to a family vehicle, the Invincible is probably the best of the pick-up truck offerings in the UK currently.
The Invincible only comes in the double cab format but there's plenty of room on board for a family and the overall performance impresses.
Potential owners should note that the Invincible doesn't have permanent all-wheel drive, instead the system cuts in automatically at speeds of up to 50mph when needed and then disconnects afterwards. This is a great system should the driver encounter an unexpected slippery surface.
Running Costs
Toyota have played something of a blinder with their 3.0 litre diesel engine under the bonnet – it's not only a surprisingly great performer at speed but it's also a cheap unit to run too.
Official fuel economy figures for the Hilux Invincible are 37mpg on the combined cycle and 42mpg on the extra urban and 30mpg for the urban cycle. These figures are helped by the fact that the 4WD isn't full time and the rear wheel drive is excellent.
The engine will help propel this vehicle, which weighs in at 2,000 kg, from 0 to 62 mph in 12 seconds. The engine is quiet when it is being worked hard and considering the size and weight of the truck, that time is very respectable.
The top speed for the Invincible is 106 mph.
Load Space
Let's be honest – most people buying or leasing the Toyota Hilux Invincible won't be using it for shifting heavy or bulky loads between work sites but it does have a load space of 1,545mm and a payload of up to 1,060kg.
There's a three year anti-corrosion warranty for the load bed as well as a one year warranty on the paint.
The Invincible also comes with load sensing proportioning system so should the payload capabilities be put to the test, then the truck will automatically adjust itself to the weight on board.
Technology & Safety
Standard safety kit for the Toyota Hilux Invincible includes front and side curtain airbags (there are six of them), traction control, ABS, EBD or electronic brake force distribution and, unsurprisingly, vehicle stability control.
There's also brake assist and side impact beams.
The truck is rear wheel drive with 4WD when needed which utilises an automatic disconnecting differential.
The truck feels solid and its active safety kit is tried and tested.
Performance
The Toyota Hilux Invincible comes with an impressive 3.0 litre D-4D engine that is responsive and there's lots of torque at low speed. It's a great cruiser at high-speed on the motorway and its engine will deal with anything off road too.
The engine, which utilises a variable nozzle turbo, will produce 169bhp while having torque of around 343Nm.
Surprisingly, the CO2 emissions for the Invincible are just 203g/km which is a great figure considering the size of the engine and what it's capable of doing. It also means it's a cheaper pick-up to run than many of its rivals.
It's also great performer when off-road with a decent ground clearance of 217mm and it's capable of wading through water 700mm deep.
The official braked towing figure is 2,800kg.
The handling is not car-like, like some rivals, but it is an easy truck to drive. The suspension absorbs potholes and it corners very well at speed with little body roll. It should also be noted the vehicle's stability control, and the braking assist, don't cut in too early and take over the vehicle but do so gradually when necessary.
For instance, oversteer out of a corner and force the back-end out then the safety system will kick-in to correct the potential problem.
Specification
Trucks like the Toyota Hilux Invincible are great vehicles capable of taking a lot of punishment but there's also a great opportunity to personalise them too.
The standard spec includes 17inch alloy wheels, chrome sidesteps, cruise control and electrically adjustable heated wing mirrors.
There's also front fog lights, dusk-sensing headlights and headlight cleaners, electric windows and Bluetooth connectivity. Toyota have also added a very good touchscreen entertainment system on board that comes with satnav and a rear view camera (helpful since the driver can't see the end of the load space).
Toyota also offers its Invincible with a six year unlimited mileage anti corrosion perforation warranty as well as a three year/60,000 mile mechanical warranty.
In addition to the chrome rollover bar, owners can also opt for leather seats rather than the cloth upholstery.
There's also a decent list of accessories for the Invincible including special bike, boat and ski holders for the roof, scuff plates, aluminium bedliner, a plastic load liner and an aluminium Tonneau cover. Buyers can also upgrade to a DAB radio and chrome sidebars.
There's also the usual bonnet deflector and variety of hardtop options for the load space – which is the usual look for a Hilux around the world.
Get a Quote on a Toyota Hilux Invincible – the legend lives on
Receive a Callback on a Toyota Hilux Invincible – the legend lives on