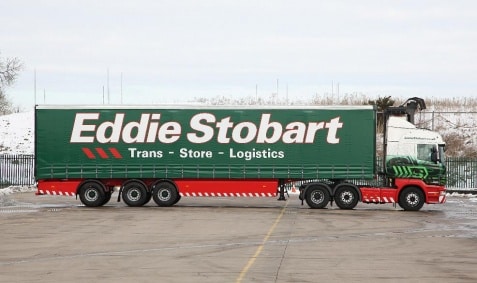 The latest annual report on the ten year trial of Longer Semi Trailers (LSTs) by the Department of Transport has shown greater safety of the vehicles than their shorter HGV rivals and a significant amount of miles saved by delivery companies by using the larger vehicles.
What are LSTs?
Longer Semi Trailers are trailers for HGVs that are between 1 and 2 metres longer than traditional semi trailers. By law they must still be no heavier than 44 tonnes axle weight on six axles. The government launched a ten year long trial in 2012 to see whether the new size of trailers are safe and whether they can reduce CO2 emissions by reducing the amount of trucks on the road.
The plan was to allow 1800 LSTs on the road through over 100 different operators, but the takeup hasn't been amazing. Currently of the 1800 'slots', only 1641 are on the road, though this has increased against last year by just over 200.
Operators must apply to the Vehicle Certification Agency (VCA) for a special license that as well as looking at safety of the vehicles annually, must look at the usage of the vehicle. Also, the DfT must be informed immediately if the lorry is involved in an accident. Finally, drivers must be specially trained to use the newer, longer vehicles.
Latest DfT report
It seems that while the economy overall is on an upward swing, the amount of miles driven in lorries is being reduced by using LSTs.
The DfT estimates that between 4.2-5.2 million kilometres have been saved by LSTs over the last 12 months. For an additional 6ft of extra trailer space, that is a significant saving. At the upper end of this range, one in 10 journeys are being saved by the LST version of the semi trailer – if this was to be fully rolled out, CO2 emissions for the UK would fall significantly with far fewer HGVs on the road.
In addition the Freight Transport Association suggested in a press release that LST trailers were only run empty 19% of the time as against an industry average of 29%.
The FTA's Head of Engineering Andy Mair said of this report, "FTA is a supporter of the use of longer semi-trailers as they provide significant environmental and efficiency benefits. The report clearly demonstrates that operators in the trial are making significant efficiency improvements, reducing HGV miles and demonstrating carbon savings using longer semi-trailers on freight operations which are suited to their use."
With regard safety, there were only 7 collisions involving LSTs that caused any injury, 3 of which were classed as 'Serious' and none that were fatal. This suggests that the newer class of vehicle are safer to use, though this may well be a reflection of the smaller numbers of the trailers proportionate to standard sized HGV trailers.
The way ahead…
This is a large scale, 10 year trial. Whether we see a full roll out of LSTs won't be for this government but rather after the next general election. That is for the trial of the 1800 LSTs to bear out…