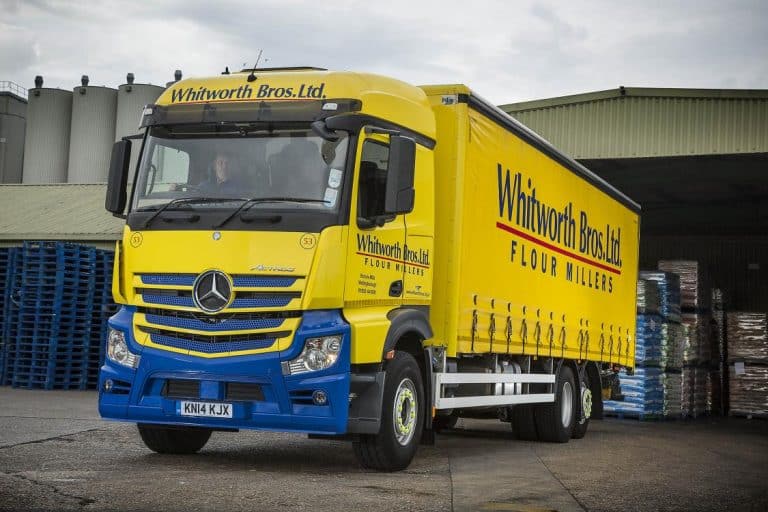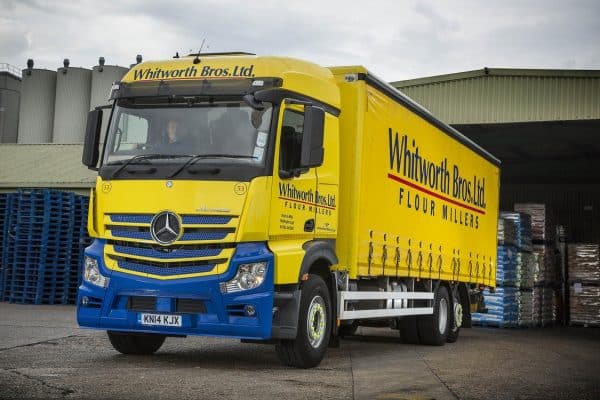 First impressions of the Mercedes Actros were so strong from one customer they not only bought another identical truck but have two more on order.
Whitworth Bros is a firm of flour millers and distributors based in Wellingborough and they took delivery of their first Actros earlier this year.
After being impressed with its fuel efficiency and having great feedback from drivers, the firm ordered another one in their livery.
However, there were so impressed with the vehicle, Whitworth has ordered two more Mercedes Actros trucks for delivery in October.
The models they opted for worth the 2545 which comes with the spacious StreamSpace cabs.
Mercedes Actros powered by the 330kW straight six engine
The Mercedes Actros tractors are powered by the excellent 330kW straight six engine that produces 450 bhp and utilises smooth driving thanks to the Powershift 3 automated transmission.
The trucks are now hard at work delivering bags of flour on pallets on their curtainside trailers to clients around the UK.
The vehicles being delivered later this year will be delivering flour to their customers in tipping powder tanker trailers.
The firm runs a fleet of 70 trucks, from a range of different marques though most of them are Mercedes-Benz trucks.
Whitworth's regional distribution manager, Colin Spurrier, said: "The fuel returns at around 9 mpg are as good as anything else on our fleet.
"Also, we are committed to retaining our best staff and the driver feedback on the Mercedes Actros has been very positive – drivers appreciate the vehicle is well laid out and has a comfortable cab."