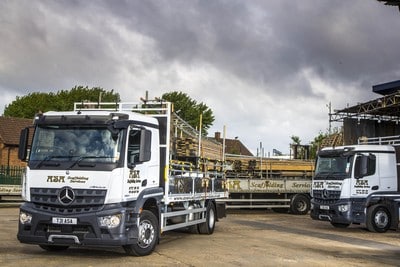 A fast-growing scaffolding firm is reaching new heights of success with a pair of new Mercedes-Benz Arocs.
ASA Scaffolding Services has taken on the 18-tonne rigids to help deal with a growing order book.
The Croydon-based firm says the new trucks are now working alongside their five pre-owned trucks – all of which are also Mercedes.
Lee Tolan, the firm's managing director, said: "We are growing strongly and doing well and so we need additional vehicles to help meet demand.
"We felt the time was right to buy new HGVs."
Mercedes-Benz Arocs is the choice of ASA
The firm employs 30 people and also runs a number of vans to serve clients in London, Surrey, Sussex and Kent.
Mr Tolan added: "Mercedes trucks look smart and have proved reliable, they are a great brand."
The firm's older truck is an 18-tonne Atego which is a 04-registered vehicle that has never had any trouble.
The main reason for sticking with the three-pointed star is that the firm's technician knows how to look after the trucks.
ASA's new trucks with dropside bodies come with L ClassicSpace crew cabs and the advanced 7.7litre straight six engine which produces 238hp which is coupled to a Mercedes auto gearbox.
Mercedes-Benz Arocs help create great first impression
Another key reason for taking on new Mercedes trucks was to help create a positive first impression.
Mr Tolan explained: "As a professional company we want to provide a high quality service as the scaffolding industry does not always have the best of images.
"For me, that begins with the vehicle we arrive in and there's none better than Mercedes."
He added that they were impressed with the level of after-sales service and the fact they could specify to a fine detail the trucks they wanted – which we were delivered on time and as ordered.
Mr Tolan is keen Mercedes fan and is looking to replace his Mercedes motorhome with a new one to help him compete in motocross competitions.