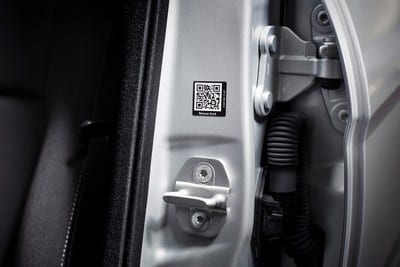 Mercedes-Benz is the first van manufacturer in the world to have all of its new vans equipped with a rescue assist sticker as standard.
In addition, this new sticker is also available as a retrofit option on all Mercedes-Benz vans built since 1996.
The work can be carried out by Mercedes-Benz commercial vehicle dealers from January next year.
Rescue Assist helps trapped people after accident
The QR code is aimed to assist rescuers after a van has been in an accident and will help them locate vital vehicle components such as airbags, fuel tanks and electric cables.
Rescuers simply need to use a Smart phone or a tablet to scan the code to find the relevant information.
Mercedes-Benz says it's made the move because vehicle technology is now becoming increasingly complex and there are extra factors that rescuers need to consider when undertaking the rescue of the vans occupants after an accident.
Mercedes vans to get QR Rescue Codes
To help rescuers, the QR code will be located in a standard position on all vehicles and will be easily accessible to rescuers.
For the owners of the Mercedes-Benz Vito and Sprinter, the code is found on the B pillar while in the Citan it is inside the fuel filler flap as well as B pillar.
Should there not be an internet connection available, the rescue services can use a digital rescue card from their device's memory which will have the relevant information for the van on it. The smart phone and tablet app is available for free from next year.
Details to help rescuers
Currently, rescuers must consult a database and determine the exact model of the van whereas using the QR makes this process more than two minutes quicker.
Hope are now high that other van and carmakers will introduce QR codes to their vehicles – and Mercedes says it is waiving its patent on the process to encourage others to sign up.
More information about having QR stickers added to Mercedes vans and cars can find out more from their nearest retailer or visit the firm's website at www.mercedes-benz.co.uk or follow this link: http://bit.ly/W4zfwl.