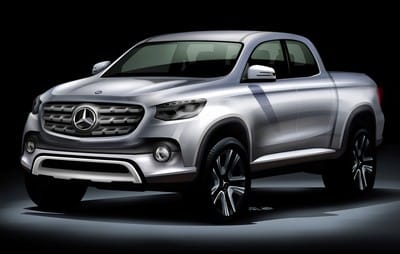 The new Mercedes pick-up is the first such vehicle to be launched by a premium manufacturer and will help the firm grow its market around the world – though it's not available just yet.
There's a growing global demand for mid-size pick-ups and Mercedes is stepping into the breach to meet it.
The firm is predicting that it will be a big seller in Europe and Australia as well as in South Africa and Latin America.
Mercedes says that pick-ups are not only versatile but have excellent all-round utility and the ability of having a one metric ton payload helps makes them popular the world over.
Mercedes pick-up will break new ground
These characteristics also mean that there is huge potential for big sales.
Mercedes believes that its pick-up will have an edge on the current players in the market because increasing numbers of commercial and private users are asking for pick-ups that have car-like specifications.
This transformation of the segment is happening around the world as pick-ups are increasingly being used for private purposes, especially in the UK and Europe.
A spokesman for the firm said: "The Mercedes pick-up will help launch a first for the company into new markets."
Buyers around the world demand Mercedes pick-up
The firm is pointing to its current Vito as demonstrating its ability to meet the high level of expertise that customers are increasingly looking for.
There's no timescale for the launch of the new Mercedes pick-up but it will be available within the next year since the company has aims to be a major player by 2020 in the pick-up segment.
Indeed, Mercedes says that since it launched the M-Class 20 years ago it was the first SUV from a premium manufacturer that redefined a segment and, the firm believes, the pick-up will do the same again.
There's no doubt that a new Mercedes pick-up will create a stir when it is an eventually launched and it will also sell in huge numbers as pick-ups become more popular, particularly with business users in the UK.