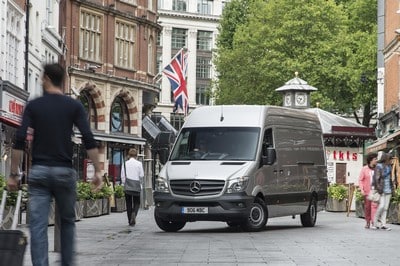 Mercedes Vans has unveiled an incredible 0% finance deal across its entire commercial range with potential buyers needing a £250 deposit contribution.
In addition, some of the Mercedes vans are being offered with a variety of optional extras at no cost.
For example, the Mercedes Vito is available under the deal with air con, driver's comfort seat, metallic paint and upgraded wheel trims at no extra cost.
The firm is also offering its Mercedes Sprinter 213 CDI – a popular choice for tradespeople in the UK – which has the option of a special upgrade pack.
Finance offers on Mercedes Vans
This pack will see the Sprinter 2 series coming with air con, driver's comfort seat, fog lights, wheel trims, factory plylining and Parktronic.
The pack also includes the pre-wiring and module for the Becker MapPilot as well as electric and heated wing mirrors – worth more than £3,000 but coming at a premium of just £750.
In addition to the 0% APR finance offer, every new Mercedes Vans vehicle purchased will come with the firm's free MobiloVan cover.
This includes Service24h which is a callout service that is free of charge for owners of Mercedes Vans – they response time is on average 55 minutes with around 85% of vans being fixed at the roadside.
Service24h part of Mercedes Vans offer
Under the agreement, Service24h will see a van stocked with genuine parts and a fully-trained Mercedes technician.
The offer means that all minor non-warranty repairs carried out at the roadside worth up to £130 inc VAT are covered. If a repair is not possible, then the van will be taken to the nearest Mercedes workshop.
These 0% finance offer is available on all the vehicles in its range until the end of June.
There's no doubt that this offer will prove to be extremely popular with a slew of new customers which will help to fuel the firms growing success.
Last year, Mercedes Vans enjoyed a 16% increase in sales in the UK with 35,000 new vehicles being registered – a record year for the van maker.