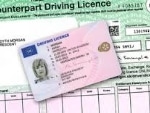 Businesses and van drivers are being reminded by Mercedes vans that the paper counterpart of the photocard driving licence has been abolished.
The firm says it could affect small businesses and their stance has been backed up by the Freight Transport Association (FTA).
Under the new system, information that was held on the paper part, including penalty points and which vehicles a driver was able to drive, has now been replaced by an online service.
The switch means that the driver now has two make the effort for their information to be accessible to a third-party and this includes employers.
For this to happen, a van driver must choose whether they want to share their licence details with someone else via the gov.co.uk website.
Mercedes vans warns of DVLA changes
To do this, they can generate a unique code which enables someone else to log-on and verify the licence details.
The new system was brought in on Monday 8 June and, Mercedes vans says, there were reports of the site not working properly.
The managing director of Mercedes vans, Steve Bridge, said: "These changes are another upheaval for motorists and we fear that small business owners will be among the hardest hit.
"For those running a business, it's the responsibility of the driver to sort out a check code but business owners have final responsibility for putting a driver in a company vehicle if they do not have the correct licence."
FTA also criticises new driving licence system
The FTA's lead on DVLA, Ian Gallagher, said: "We believe the new system will be more cumbersome for employers."
One of the big issues for the FTA is that the bulk checking of licences cannot be carried out.
The FTA says that despite extensive dialogue with the DVLA, they still no suitable online alternative for employers to check driver details in bulk.
The association is now urging the government and the DVLA to rethink how licence checking is carried out with a view to bringing a system that enables an employer to quickly and easily check driving licence details.