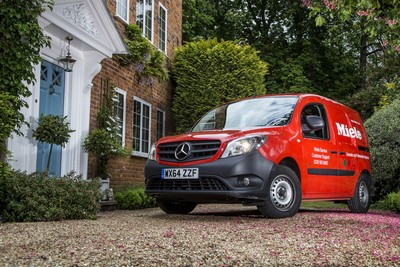 Every technician for high-end appliance manufacturer Miele will soon be sitting behind the wheel of Mercedes vans.
The firm has just taken delivery of a fleet of Mercedes Citans and a few Vito models.
The new vans will be used by the engineers to visit properties to carry out repairs and maintenance to the popular dishwashers, washing machines and fridges.
The firm also produces heavy duty laundry equipment as well as medical equipment washers which need larger vans for carrying kit too.
The new vans have had racking installed by Sortimo and they are all BlueEfficiency models to help boost fuel economy.
Start/stop in Mercedes vans boost economy
The Mercedes vans have start/stop function, an optimised alternator, low rolling resistance tyres and battery management systems to boost their fuel economy.
The new Mercedes Citans should deliver economy of around 66mpg while having emissions of 112g/km.
This initial delivery will lead to the entire fleet of 120 vehicles becoming Mercedes vans.
The firm's fleet manager, Mike Rixon, said: "We update our vehicles every three years and are moving to an all Mercedes vans fleet."
He said that they had carried out a lot of research and were won over by the benefits and features of running Mercedes vans which included whole life operation costs.
Engineers give Mercedes vans approval
In addition, the firm had their engineers take test drives in their new Mercedes vans and the feedback was positive.
Another crucial aspect to the taking on a Mercedes vans fleet is that the firm commits to a two hour timeslot to visit customer's homes which means that they cannot have unplanned downtime.
This means that they have also been reassured by the MobiloVan free roadside assistance that is also part of the deal.