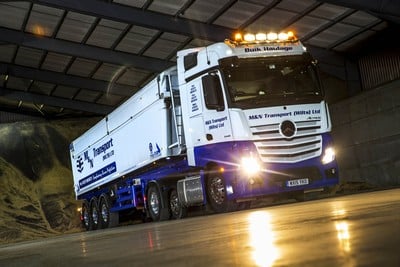 Leading bulk haulier M&N Transport have been so impressed with the Mercedes Actros that they have transformed themselves into an all Mercedes-Benz fleet.
This means they now run 30 of the Mercedes Actros 6×2 tractor units from their Westbury base in Wiltshire.
The firm specialises in the transportation of aggregates across central and southern England and they work with some of the biggest names in quarrying.
In addition to running its own fleet of trucks, the firm also employs a number of subcontractors.
M&N Transport have just bought five new units, which are all 2448 models with BigSpace cabs, and have mid-lift axles with 17.5inch wheels – which helps save space for hydraulic packs and around 250kg in weight.
Mercedes Actros in tractor and trailer combinations
The firm has also opted to make their tractor and trailer combos even lighter by using Dura-Bright alloys
The firm also bought 10 Mercedes Actros models last year and these and the new units all come with roof mounted light bars and an upgraded entertainment system.
Each Mercedes Actro is powered by 12.8litre straight six engine; it's a state-of-the-art unit which produces 476HP and utilises the Mercedes Powershift 3 automated transmission.
One of the reasons for the transport firm's shift across to the Mercedes Actros was their excellent impression after buying two units in 2009.
They were won over by their reliability and fuel economy and the quality of the Mercedes sales backup.
Reliability and fuel economy with the Mercedes Actros
Now they've taken of five more Actros, they have sold off their non-Mercedes tractors.
Mike Burton, a director of the firm, said: "The Euro6 engines are better and we are averaging around 8 miles to the gallon which puts them, in some cases, half a mile further ahead."
The firm is also trialling the Mercedes predictive powertrain control system which could boost fuel economy still further.
The new system works by utilising GPS mapping and planning the route three kilometres ahead and then the system controls the vehicle's braking, speed and the transmission to boost fuel efficiency.
The predictive powertrain control system from Mercedes comes into its own when the tractor is travelling down and up hills.