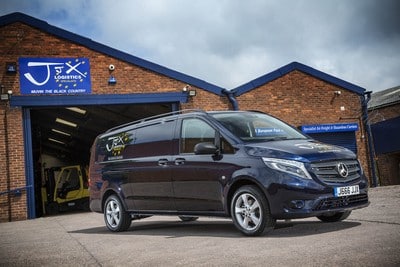 The new Mercedes Vito has already made its mark with a firm that was among the first to order the van.
JJX Logistics is now the proud owner of a new 3.2 tonne Mercedes Vito Extra-Long and it's already hard at work.
The Wolverhampton-based firm has also taken delivery of a new 3.5 tonne Sprinter 316 CDI which has been fitted with a curtainside body.
The family owned business offers transport services to the aviation and aerospace sectors and the new vans are proving value for money.
They also have customers working in print and packaging, rail, brewing and automotive sectors.
Mercedes Vito leads the way for Wolverhampton transport firm
JJX started out with just one van, which was from another manufacturer, but since switching to Mercedes every van they have bought since has been one with a three-pointed star.
The firm's founder, John Donovan, said: "It doesn't matter whether you're talking about durability, reliability, safety, comfort or even all-round quality – Mercedes vans are streets ahead of the competition."
JJX Logistics now run a fleet of 24 vans, mainly consisting of Sprinters with six Vito models and one Citan.
The firm also runs four Mercedes trucks, three of which are Actros tractors and a 7.5 tonner.
Mr Donovan freely admits he is a 'van geek' and says he was among the first to buy the Mercedes Euro6 compliant models and is pleased to be among the first buyers of the new Mercedes Vito.
Mercedes Vito plus extras for JJX
The new model has colour-coded bumpers and metallic blue paintwork, roof rails and five spoke alloy wheels.
The firm also opted for the driving assistance package which includes blindspot assist, collision prevention assist and lane keeping assist systems.
There's also a wide range of other features included including air con, a comfort driver's seat, LED intelligent light system and a chrome interior trim.
Their new van has a 2.1 litre engine underneath the bonnet which has a 163 HP power output coupled to a six speed manual transmission.
Economy has also been boosted with the addition of Eco stop/start, alternator management and improved under body aerodynamics.