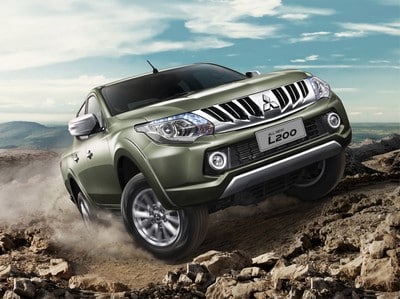 The new model will be unveiled at the Geneva motor show and hopes are high this model will build on its previous success.
It's been nine years since the Mitsubishi L200 first appeared and the firm has sold 1.3 million units since.
Mitsubishi says that its new model is tougher and easier to handle but there's also improved comfort in the cab and reliability has been improved also.
Performance of the Mitsubishi L200
Underneath the bonnet there's a new 2.4 litre turbo diesel engine that is 17% more efficient than the one it replaces and is coupled to a new six speed manual gearbox.
Drivers will find that the drive is not only quieter, mainly thanks to the smooth running of the new diesel, but there's also better cabin insulation which should help conversations between rear passengers and those in the front seats.
The Mitsubishi L200 has better suspension to deliver an improved, smoother ride that has less vibration which helps to boost the driving experience.
Off-road abilities of the Mitsubishi L200
The pick-up was already a tough customer and Mitsubishi says its chassis is 7% more rigid to help it deliver a better ride over more demanding terrain.
Another big improvement is that the oil change intervals for the engine have been increased from 10,000 miles to 12,500 miles though the servicing intervals for UK customers have yet to be confirmed.
The new Mitsubishi L200 comes with lots of safety kit including active stability and traction control, there's also a trailer stability assist and hill start assist system. Mitsubishi have also added lane departure warning to alert drivers they are straying on motorways.
Mitsubishi L200 has impressive kit list
Among the new features for the model are keyless entry and engine/stop start, cruise control, paddle shifters on the steering column and dual zone air con.
There's also a rear view camera and a DAB radio.
After its launch in Geneva, the new Mitsubishi L200 will be available to buy in the summer with buyers having the option of double cab or club cab body styles.
There's no induction of how much it will cost but it will be priced to compete against the likes of the Toyota Hilux.