The all-new Renault Trafic and Renault Master get the firm's R&GO impressive new infotainment smartphone app which can now be downloaded.
For anyone who uses their van as a mobile office, the R&GO system is a boon and connects the phone via Bluetooth to the vehicle.
Renault have partnered with CoPilot to provide a system that does not need a 3G connection and there's also ActiveTraffic provided free for a year for local traffic information.
There's also the ability for basic information such as service stations and parking near to the designated location to be accessed.
Renault Trafic gets the R&GO app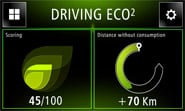 The app provides 3-D satnav, a vehicle trip computer, fuel economy figures and the driver's Eco rating – essentially it will track factors such as braking and acceleration to show how fuel economy can be improved.
There's also the ability to playback stored music, access Internet radio and make hands-free telephone calls. The system can also read out text messages.
In addition, the new app can also be used for tablets but only in the Renault Trafic.
However, though the app is free to use the satnav feature costs a one-off £19.99 that means users won't have to buy a separate satnav device.
Satnav on the mobile phone to save data
It's also helpful that Renault are offering the satnav feature on a month's free trial to show its effectiveness.
Another attraction is that once the satnav mapping has been downloaded, the user will not then use up any of their mobile data allowance.
One aspect of the new Renault Trafic that was picked up in the commercialvehicle.com van review to help the van rack up an impressive five out of five stars was its comfort levels for those who spend a long time in the cabin.
There is a class-leading 90litres of storage in the cabin, a fold down central seat and a dedicated space for the driver's laptop.
Some versions of the Trafic come with a universal cradle fitted as standard.
To learn more about R&GO or the Renault Traffic and the Renault Master, visit their website.