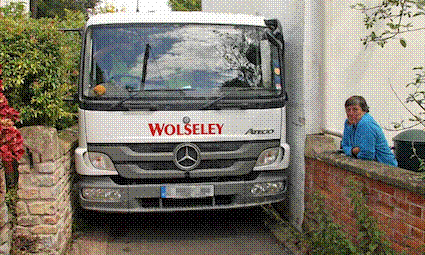 A new sat nav device aimed at preventing vans and lorries getting stuck in narrow country lanes could be a thing of the past, says one firm.
Sat nav maker TomTom says its Trucker 6000 device will stop vans, lorries and trucks from getting wedged in tight country lanes.
They say the device will steer vehicles away from any unsuitable roads in the first place to prevent these accidents occurring.
To do this, drivers will be able to input their vehicle's width, length and height as well as its weight and maximum permitted speed, to enable TomTom's Trucker 6000 to calculate a route that will avoid low bridges and winding rural roads.
The firm says it will help avoid incidents that feature regularly in newspapers including one last December that saw a lorry being stuck for three days in a Wiltshire country lane.
TomTom sat nav would have prevent HGV getting stuck
In another incident, near Stevenage, an HGV was stuck between two high hedges which meant the road was closed for several hours until it was removed.
TomTom also says that oversized vans and lorries are responsible for causing £50,000 worth of damage to a cottage in Somerset by trying to squeeze down a six-foot wide Lane.
Now the firm says that delivery drivers have no excuse for causing damage and disruption in rural areas – if they use the new sat nav which will highlight potential route problems.
The device is now available from Halfords at £319.99 – and it can be useful normal car use when the van driver returns home.