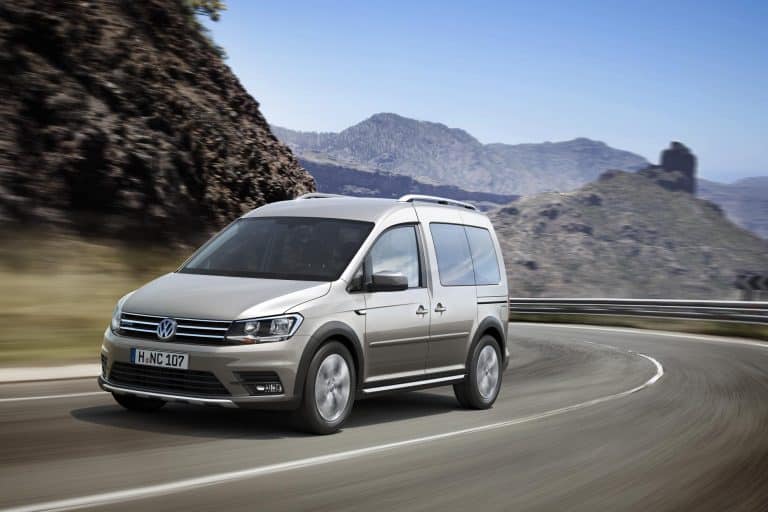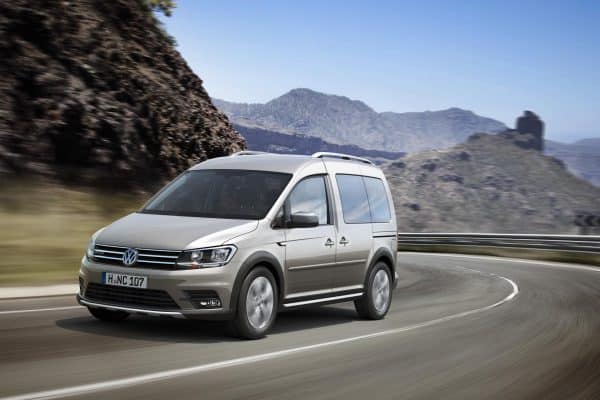 This is the VW Caddy Alltrack which is a compact van capable of these off road performance should any commercial van operator need it.
It's not available in the UK yet but the Alltrack is the fourth generation of the van and is replacing the CrossCaddy and it was one of the big attractions at VW's stand at the Frankfurt motor show.
The UK's car market is seeing a greater number of vehicles capable of performing well in muddy fields, for instance, with underbody strengthening and all-wheel drive capability. There's no reason to believe that the same demand will not grow from van operators.
The new VW Caddy Alltrack is available as a panel van as well as a passenger car format.
As with the car market, the new compact van is distinct from its other Caddy siblings and comes with 17 inch alloy wheels, metallic paintwork and the option of 4Motion all-wheel drive technology.
VW Caddy Alltrack's interior features sill tread plates in matt silver
The VW Caddy Alltrack's interior features sill tread plates in matt silver with the robust appearance being underpinned by black side sills and bumpers as well as trim panels on the wheel arches.
There are also protective side strips that help to emphasise the off-road appearance of the new VW Caddy Alltrack.
Indeed, the underbody protection is in black designer style and is offset by silver accents.
The interior of the Caddy Alltrack has also been made distinctive and it comes with its own set of seat covers made of tough fabric.
There are also folding tables on the front seat backs and both Alltrack variants have a leather package which features a leather steering wheel, gear lever boot and handbrake lever.
VW Caddy Alltrack's MPV passenger model
Opt for the VW Caddy Alltrack's MPV passenger model and the interior also comes with an adjustable centre armrest and the firm's chrome package, metal pedals and Alltrack floor mats.
The Caddy has won a lot of respect as an excellent urban delivery van and the family MPV option also sells well.
The van is on sale in Germany and may be heading to the UK at some point.