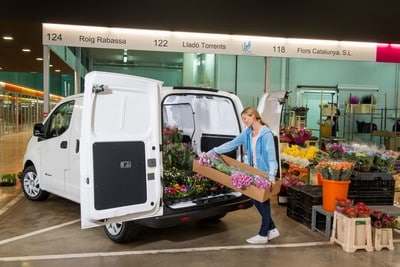 The ground-breaking Nissan e-NV200 all electric fan has picked another prestigious award for its green performance.
This time it's the turn of the Next Green Car Awards which have given the van its 'LCV of the Year' title.
The 'green' awards are highly coveted since they are scientifically-based and this particular award recognises the Nissan e-NV200's low-cost appeal to a growing band of admirers as well as its lower emissions.
Innovation with the Nissan e-NV200
The judges from the green car website also praised the innovative nature of the van.
Judges said they would also impressed by the e-NV200's ability to take head-on the domination of petrol and diesel engine vans in the light commercial segment.
The managing editor of Green, Dr Ben Lane, said: "Nissan has broken new ground by offering a practical zero emission alternative to the diesel van."
Nissan's Paul O'Neill said: "We are thrilled to win this award because it's based on scientific fact rather than opinion and this is a ringing endorsement of the Nissan e-NV200's impressive environmental credentials."
All-electric Nissan e-NV200 is tops
He added that the all-electric van has the potential for redefining the UK's LCV market because of its performance, agility and versatility that match any other van of this size.
Nissan says that the e-NV200 will cost most operators just 2p per mile to run and has greatly reduced whole life costs when compared to its competitors.
In addition, the van also has low emissions and running costs and much lower maintenance bills which help to make the cost of ownership more than £1,200 lower than for running a diesel equivalent over four years.
Nissan is also highlighting the e-NV200's 'unique driving experience' which minimises driver fatigue through the absence of cabin vibration.
Nissan e-NV200 is a big seller
The van also has a useful 703 kg payload and there's space on board for two Euro pallets.
Utilising the tried and tested technology from the British-built Nissan Leaf, which is the world's bestselling electric car, the e-NV200 can travel more than 100 miles on a single charge and the battery can be charged up to 80% in just 30 minutes.
On sale now, the Nissan e-NV200 is growing in popularity and is priced from £13,393.