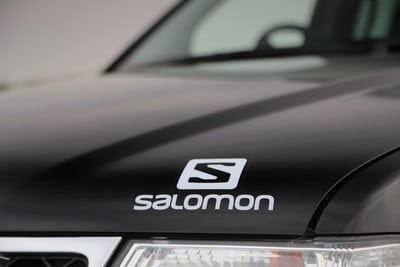 The popular Nissan Navara is getting a limited special edition which is based on its Tekna trim.
Called the Nissan Navara Salomon, the special edition is part of a tie-up with the mountain sports brand and comes with lots of extra kit and styling cues to help make it unique.
There are just 500 of these Navaras available and prices start at £27,845 OTR – and there's a voucher worth £250 for Salomon kit thrown in as well.
Nissan Navara Salomon has extra kit and style
Exterior styling additions include chrome door handles and front bar and also the surrounds on the fog lights.
In addition, there's Solomon branding dotted around the vehicle which is available in a range of colours.
Step inside and the Nissan Navara comes with Salomon entry guards and floor mats as well as a metal plaque.
The extra kit would cost buyers £1,300, but this special edition has a premium of just £750.
Nissan Navara offers performance and value
Opt for the automatic gearbox, which is an extra £1,755, or the excellent Nissan Connect Premium pack which will see satnav, rear parking camera and an infotainment system being added for £1,650.
Even with all the kit, the Nissan Navara is still an impressive load lugger thanks to its impressive 2.36 square metres of load area which is capable of carrying a maximum payload of 1,250kg.
Underneath the bonnet there's a useful 2.5 litre turbodiesel engine that will produce 190PS which makes towing loads of up to 2,600kg a cinch.
Review of the Nissan Navara
When it was reviewed by the commercialvehicle.com team, the Nissan Navara scored highly for its versatility and its rugged build quality to make it one of the best pick-ups currently available.
The team was also impressed with the high levels of equipment that come as standard and its ability over a variety of terrain.
In addition, the Nissan Navara is a nice vehicle to drive over long distances and it has great performance to boot.
There's no doubt that many people will find the extras on the Nissan Navara Salomon extremely useful. The vehicle is in showrooms now.