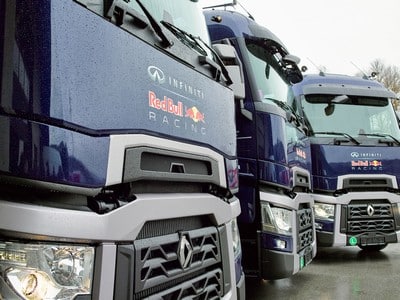 Tasked with ploughing up and down the motorways, seven new Renault T 520s are helping Red Bull in its formula 1 Grand Prix campaign.
The new Renault Trucks are helping to shift the Red Bull 'Tree House' around Europe when the Grand Prix is at home.
The Tree House is essentially an extended pit lane for the Infinity Red Bull Racing Formula 1 team.
The seven Renault articulated lorries play a crucial role in delivering the parts for the Tree House which consists of a mobile office and workshop for supporting the Red Bull team.
The lorries are taking the set-up to every European race weekend and so reliability is key.
Renault T 520 carries the mobile workshop
Of the containers, there are four designated to create the mobile workshop which consists of conventional tools to help the team to success including a drill press and a lathe.
However, new technology is also crucial and the team also uses a 3-D printer for printing any required parts.
The main centre of operations is the Red Bull Box and the Tree House is an extension of that.
The three remaining containers being carried by the Renault T 520s are used by the team as a mobile office which is used by 35 people.
The fleet for the work consists only of Renault Trucks and is a continuation of what has been a long standing relationship between Renault Trucks and Red Bull.
Renault T 520s for Red Bull have the latest engines
The new trucks have the latest top engine, a 13 litre Euro 6 complaint unit that produces 520HP and there's also a high sleeper cab which has an interior height of just over two metres – so that most occupants in the cabin can stand-up easily.
The Red Bull's Renault Trucks also come with the firm's automatic Optidriver gearbox which helps make changing gears easy for the drivers and there's also the Optibrake to help make slowing down convenient too.