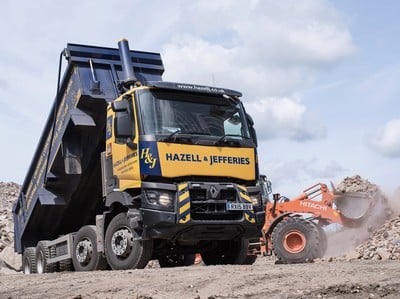 The Renault Range C has been selected after a competitive evaluation process to join road surface specialist firm Hazell and Jefferies.
So impressed were employees with the truck's performance, that they have ordered 11 Range C430's. The 32 tonners took on the cream of the competition in the trial and beat them.
The firm has now taken delivery of three Range C trucks which have been fitted with tipping bodies and soon there will be another seven, also with tipping bodies.
A further Renault Range C will have an aluminium fabricated body fitted.
Renault Range C's wrapped in firm's livery
Hazell and Jefferies works for clients across the South of England and the Range C's are being wrapped in the firm's striking livery of yellow and blue.
They will be hard at work delivering aggregate, surface dressing, road planing and general highways work.
The firm's managing director, Richard Hazell, said: "The Range C was a favourite with drivers and it's as though the truck has been built specifically as a tipper.
"We loved the gearbox automatically selecting the correct ratio for our work."
He added that the truck was outstanding in test drives and it comes with a competitive package to seal the deal.
Renault Range C makes an impact
Richard added: "The Renault Range C have already made a big impact."
The firm says that the early mpg figures are good and as the vehicles run-in they are hoping the economy is improved further.
The Berkshire-based firm says that the trucks will now be working hard in civil engineering, road planing supply and undertaking road surface dressing contracts.
FTA warns firms on new lorry scheme
Meanwhile, the Freight Transport Association is advising hauliers to be ready for when the Safer Lorry Scheme goes live in London on 1 September.
It will be a legal requirement for all HGVs operating in the capital to have extra side guards and mirrors fitted.
However, the FTA is warning that the new regulations are 'exceptionally precise' and so many operators will be needing expert help and guidance.
Safer Lorry Scheme regulations could result in a fine
Failure to comply with the new Safer Lorry Scheme regulations could see £1,000 in court fines or a £50 fixed penalty.
It is set to be enforced by the Driver and Vehicle Standards Agency and the police.
Essentially, all vehicles over 3.5 tonnes have to be fitted with the new safeguards.