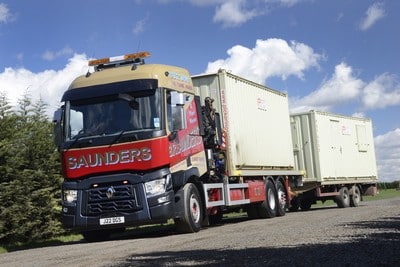 The rapidly growing construction sector has led to one transport firm buying its first Renault Range C truck to help meet demand.
BR Saunders (Transport) Ltd runs a fleet of more than 40 DAF and Volvo trucks but needed a truck to help move portable accommodation between construction sites in the south of England.
The 26 tonne Renault Range C380 comes with a sleeper cab, flat bed body and a crane.
A director of the firm, Paul Saunders, said: "The building sector is buoyant again and we needed a vehicle for this specific purpose.
"The Renault Range C is robust with rugged looking components and we see it's up to the rigorous demands of delivering to busy building sites."
Renault Range C helps family firm to success
Founded in 1952, BR Saunders is based in Surrey and is being run by the family's third generation who have been impressed with the new Renault Range C.
The firm is enjoying success with its offering of self-loading and unloading trucks which can carry loads of between one to 95 tonnes lifting capacity which includes the winch and fly jib.
In addition, the firm also offers vehicles on a contract hire basis and can offer transport solutions to suit a customer's needs.
Renault Range C after-sales impress
Mr Saunders also praised the after-sales service that comes with Renault and added it was important that the firm's drivers also accepted the new Renault Range C into the fleet.
He explains: "I liked the look of the cab which has lots of space which is important for a driver's comfort when out on the road.
"The Renault Range C is already proving to be a successful addition after being in service for a few weeks."
The Renault Range C has been delivered in the firm's livery and they are already thinking about ordering their next one.