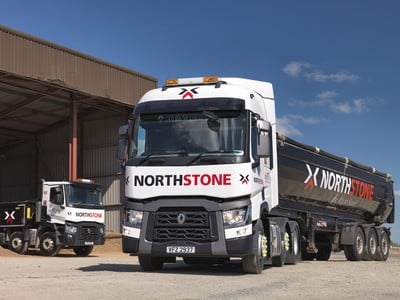 Northstone Materials has ordered 12 Renault Range C 430 8×4 trucks to join its fleet in Northern Ireland.
The supplier of quality aggregates and concrete products has a fleet dominated by DAF vehicles but the firm was impressed with the fuel performance and payload capabilities of the Renault Range C.
The firm is to take delivery of six Renault Range C's that have been fitted with Hymix mixer units and six with insulated tipping bodies.
Northstone also have another six Renault Range C430s on order.
The new trucks are replacing DAFs and have been acquired on a five-year operating lease.
Good experience with the Renault Range C
The firm's commercial director, Richard McDermott, said: "We have had good experience with Renault premium tractor units so we invited Renault to tender.
"Our main issue is fuel performance so we asked all of the manufacturers to demonstrate mpg and the Renault Range C's have impressive fuel performance.
"They also had an extra half tonne of payload and a competitive leasing cost which helped with our decision."
He said that the extra payload was important and after two months of usage, the Renault Range C trucks are 'running well'.
The firm is achieving around 8.5 mpg which is 1mpg better than their other vehicles.
Northstone drivers pleased with the Renault Range C
In addition, the drivers of the Renault Range C at Northstone are pleased with the trucks.
The Renault Range C tippers are being used for gravel and stone deliveries for road contracting operations and the mixer units are delivering concrete to customers.
The firm delivers across a variety of terrains, the trucks are working in rural areas and urban environments and proving equally effective in both.