One of the most difficult decisions a small business owner or fleet manager has to take when deciding on which vehicle tracking software to use is how to whittle down the extensive list of services that are available.
On that list, however, should be the offering from AMI Nexis since it uses impressive internet-based software that utilises GPS tracking devices for a smooth service.
The firm says this is 'the future of asset management and tracking' and from the time that commercialvehicle.com spent testing their offering, we are inclined to agree.
Once logged in (and users don't have to restrict themselves to a desk top computer since they can also use mobile phones and tablet devices) the main impression is of a clear dashboard that's easy to navigate.
Twitter feed gives traffic and tracking information
The next best thing (for us anyway!) was that there is a regular Twitter feed on display which is updated with news relevant to the application and helpful information to those with fleets of vehicles – the user can also send a tweet to @AMINexis from their dashboard.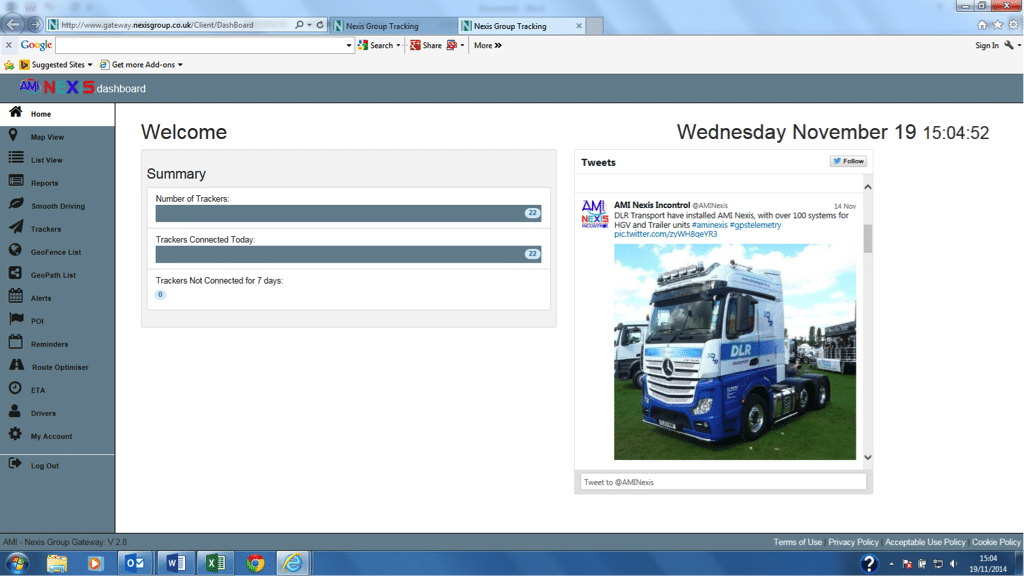 Like many other offerings, the AMI Nexis system utilises a map-based system that displays the registration number of the vehicle being tracked. Click on this and the system will deliver current and historic information, including an exact position and speed.
The display is smooth and seamless and works with a fair bit of intuition and it's really easy to put together the vehicle's history from any date.
The map view allows the user to zoom in and use Google Street view to appreciate where the van actually is while a list option will reveal details of the firm's registered vehicles currently active at that time, including those that are parked-up.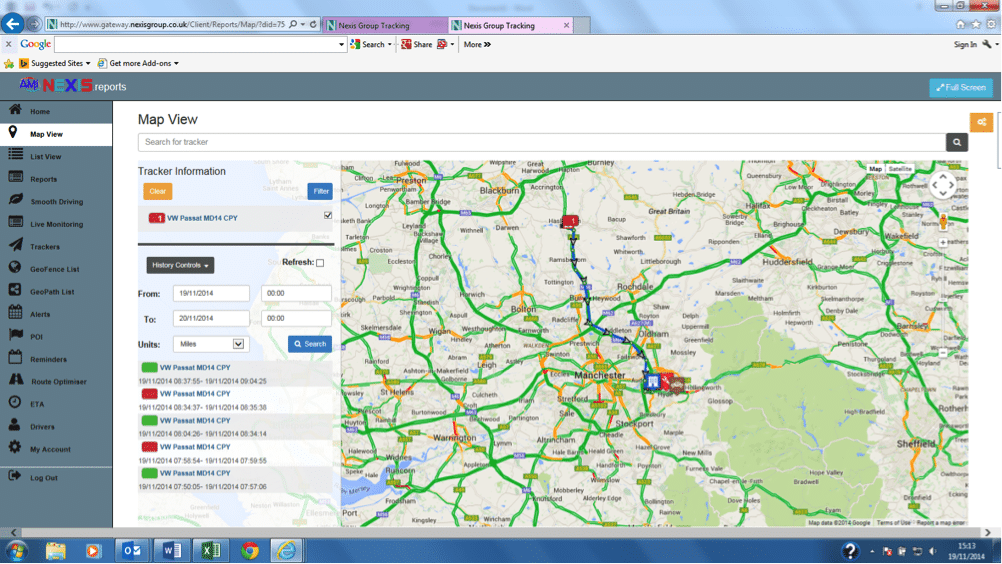 This list also details the last connection and their exact position and, in what could be a boon for a fleet manager, the user can drill down even further to get a total for vehicle distance and hours for the day and other issues including whether the ignition is on or off and the trip odometer.
Improve driver behaviours with tracker
The event report gives every detail a fleet manager or small business could wish for and for each tracker unit there's the date, exact time and coordinates for a recorded event. However, perhaps the only drawback to this is that every event from the ignition being switched on to the vehicle moving is recorded here.
Again other services offer something similar and we were particularly taken by the trip report which gives the exact address of where the tracker began its journey and where it ended up. The report also gives the start times, stop time duration and the actual driving duration including idle duration. Also included is the distance and maximum speed achieved on the journey.
For those fleet managers looking to keep their fuel costs down, the smooth driving report makes for interesting reading and includes data for total mileage and engine hours and idle hours.
Cut running costs with AMI Nexis
There's also a bar chart that shows, on a daily basis, things like speeding issues (which will prompt an alert immediately), cornering and braking. Accelerating is also detailed as is fuel use.
We also liked the pie chart which gave an engine hours summary to show engine idling and engine coasting.
The one thing that stands out particularly for the smooth events history, is on a daily basis a fleet manager can see what the particular issues they are having with their vehicles.
In the sessions we monitored, cornering was an issue on two days in a week which meant that we could then drill down on those particular days to find out which drivers were responsible and what may have caused such cornering to happen.
Braking was an issue on one day in the past seven and accelerating was a minor issue on another day (accuracy is down to an on-board accelerometer).
All of these illustrate problems for a business by highlighting poor driving standards which need to be addressed or problems with wear-and-tear on the vehicle. Many firms are also now using tracking data to improve its 'green' driving performance by boosting driving skills.
Improve customer service with AMI Nexis
There's no doubt that being a fleet manager can be a fraught responsibility and when a client is on the phone demanding to know when a delivery is going to be made, the AMI Nexis system will tell them.
The estimated time of arrival for vehicles with a tracker are detailed so there's no need for the manager to contact the driver or make any calculations.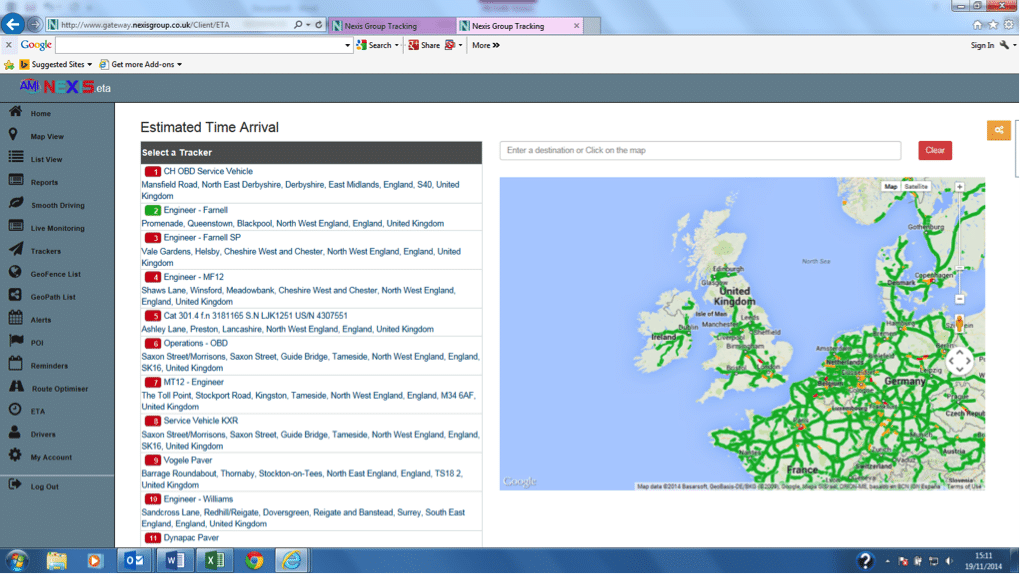 The system also offers a 'Geofence' warning – the user can define an area on the map to determine a sales distribution area or delivery area, for instance, to any level from postcode to a town or county.
Should the tracked vehicle then enter or leave the Geofence's area, the system will send a message to flag up the occurrence.
There's also the Geopath function which is an interesting use for a tracker. For instance, if a firm is running a shuttle bus and the bus then deviates from its planned route the system will send a message to highlight the issue.
Real time vehicle tracking for small fleets
One of the biggest selling points for the AMI Nexis system is that they use real time tracking underpinned by powerful GPS hardware – there's always a signal, even if the vehicle is indoors.
Indeed, in the rare event that the system loses contact with its GPS tracker, the client can interrogate the system and use GSM to triangulate where vehicle actually is by using mobile phone masts nearest to where the vehicle was last recognised.
The firm also uses multi-roaming Sim cards which means that, in effect, they use all four mobile phone networks and take the best signal they can to ensure constant contact with the tracker.
The firm also offers driver ID immobilisation which works in conjunction with a Dallas key – without it the vehicle cannot be started. The business owner will also know who has started or stopped the vehicle.
The firm is honest enough to say that they are not offering the cheapest service but theirs is the best system available for the price and they also have an emergency 24/7 contact number.
Unique vehicle tracker offering from AMI Nexis
One reason for its almost unique offering is that the firm has consistently responded to client requests for specific solutions and they are happy to tackle just about any request, thanks to their team of developers.
AMI Nexis also is a rare tracking offering in that they run their service on their own dedicated servers.
The firm is now enthusiastically growing its market share and is working with firms that just have one unit installed and with others who have dozens of trackers in operation.
Based in Manchester, the AMI Nexis trackers are being put into plant, machinery as well as fleets of vehicles for SMEs and blue-chip firms.
The basic offering is excellent in its scope and capabilities and a good indicator for its reliability and offering is the fact that clients have been with the firm from day one and many have been with them for 10 years.
Essentially, the AMI Nexis system is a one size fits all offering that has the added bonus of being adapted to suit a firm's own needs in a package that is hard to beat.