The fleet telematics industry is becoming increasingly crowded and the Blue Tree Systems offering is a comprehensive one to help it gain market share.
There are a number of solutions for fleet managers and owners in their offering but we were particularly taken with the driver performance element of their telematics proposition.
This enables a fleet owner or manager to maximise the driver's performance and reduce fuel usage at the same time by having an on-board driver scoring screen delivering real-time problems and their solutions.
This innovative idea provides feedback and coaching to help improve driving performance, help safety and reduce maintenance costs.
While the feature looks sophisticated, it's incredibly simple to use and a colour-based scoring system shows a driver instantly where improvement is necessary.
The driver can also drill down to find specific coaching tips to help boost their overall driving grade. This may mean increasing their use of cruise control or reducing idling time, for instance.
Blue Tree Systems telematics offering
As with other telematics offers, the system from Blue Tree offers an excellent navigation feature which selects the optimal and safe routes which take into account the height of the vehicle to avoid low bridges, for instance.
Blue Tree has teamed up with industry-leader Garmin to offer lifetime map updates and they look impressive here.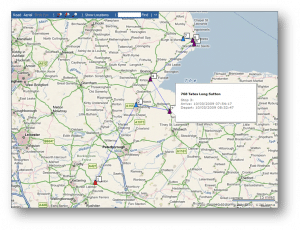 Increasingly, a telematics system will also incorporate a system to message drivers out in the field to improve communication and help relay information between the office and the employee.
To help avoid distracting the driver when they're busy, the Blue Tree system will enable text-to-speech functionality which is easy and intuitive. And, surprisingly, fairly accurate.
We were also impressed with the ability to carry out pre-and post-trip checks to ensure that the vehicle has been inspected and can carry its cargo safely.
This is likely to be an increasingly important feature in time to come, for instance London's Safer Lorry Scheme is aimed at boosting road safety by making the vehicles safer and better maintained.
Automated workflow and telematics
Blue Tree also have a way of automating workflow so that the system itself manages a driver's daily schedule to boost efficiency and profitability.
The firm claims that by using the system, a fleet can effectively reduce the number of vehicles they are running and boost efficiency at the same time. This could well be a major money-saving move by some firms which utilise it.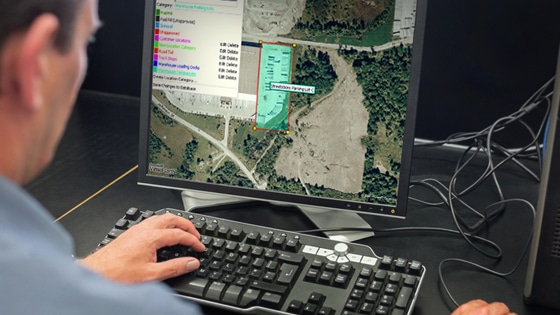 This routing software is easy to use and the driver or fleet manager simply adds in stops, pick-ups and deliveries as well as rest breaks which are then factored into a driver's working day.
Most of this is based on their own advanced platform which has been designed in-house and sits on an Android system so other Android-enabled devices can also access it.
Indeed, Blue Tree has a high level of integration with other software providers and many fleet managers will find this of huge use.
This fleet management system, known as R:Com can reduce a firm's fuel costs by up to 20% by improving driving standards and cutting down on fuel theft.
Live vehicle tracking with Blue Tree's R:Com
R:Com uses the latest GPS technology to provide historic and live vehicle tracking and effective management of all vehicles, as well as trailers.
The system is easy-to-use and has an impressive array of features; like many others on the market it's easy to control a fleet from the interface and to print off trip reports, times and locations of a vehicle and the ability to replay a vehicle's route.
There's also the ability to switch the viewing position into Birds Eye, aerial or road mode, depending on the user's needs.
The system has, says Blue Tree, unique roaming features which help keep GPRS costs as low as possible and provides the lowest comms package in the sector.
There's a lot to be said for the Blue Tree system, it's intuitive and easy-to-use, the reports are excellent and the whole package feels well put together and robust.
Driver performance improves with telematics
However, the system does stand out for a couple of features: the driver performance element is an excellent idea and gives a driver on the road food for thought and the chance to improve their driving styles.
This precludes the need for a fleet manager having to review data and arrange training sessions and also boosts a driver's ability to push themselves up a league table of drivers (if the company, for instance, is using such a system to reward good driving).
The review team commercialvehicle.com were also impressed with the messaging system which enables two-way communications in a very impressive and stylish method. Either by typing a response or question, or even speaking into the system this means that the route or customer can be dealt with effectively.
Essentially, the catchline provided by Blue Tree: 'Smart, powerful, simple' is hard to dispute and many fleets will gain a lot from utilising this effective telematics system.