In a crowded vehicle tracking software market, the telematics offering from Forward Thinking has a number of advantages.
Like many of its competitors it does an excellent job of gathering data on vehicle and driver activity but the system then presents that information in some of the most striking and user-friendly interfaces we have seen.
Forward Thinking promises to take a firm's fleet 'to the next level' and will reduce costs while improving customer service and, probably most important of all, improving a company's bottom line.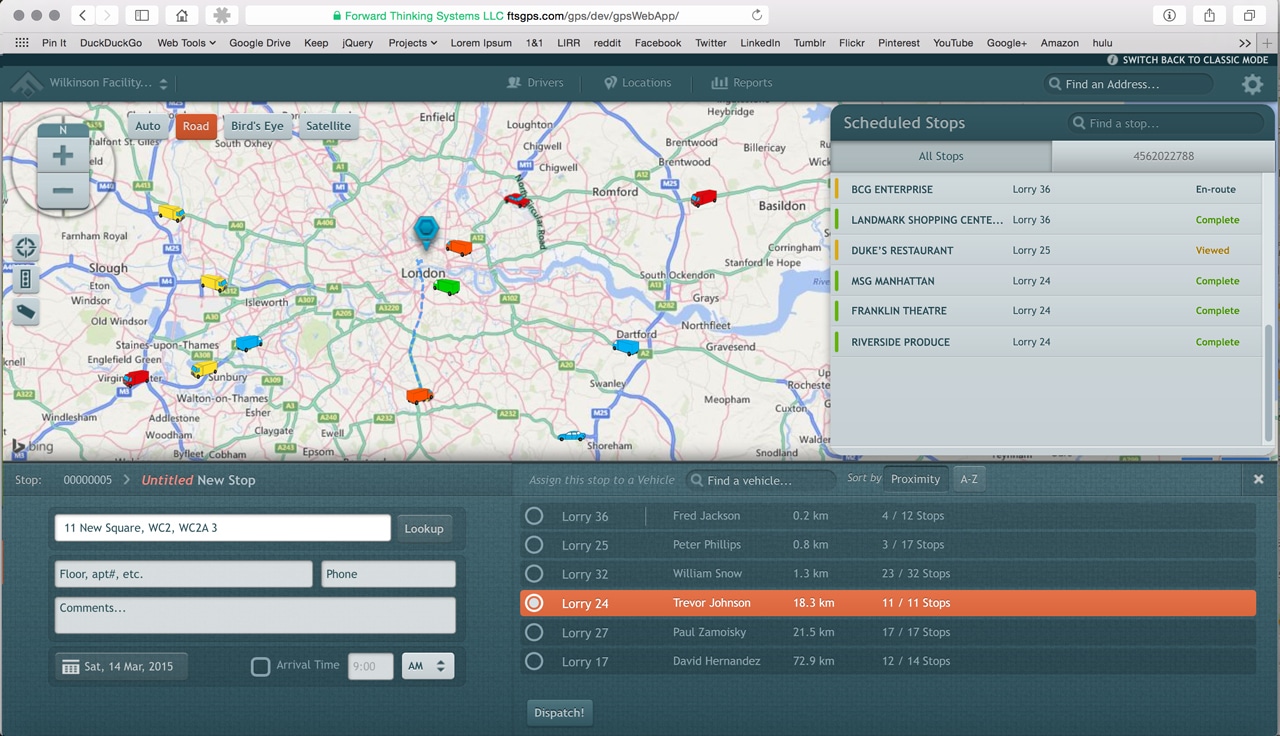 The firm does this with a real-time fleet GPS tracking system that offers real-time location and an unrivalled vehicle reporting solutions.
One of the striking elements is the breadcrumb trail that the system generates of a vehicle's activity so a fleet manager, for instance, can click on any point to find out the information they need.
Beneath the interactive map is a useful graph illustration of the highlights such as vehicle speeds, for instance, to reveal the 'real' story of the vehicle's activity that day.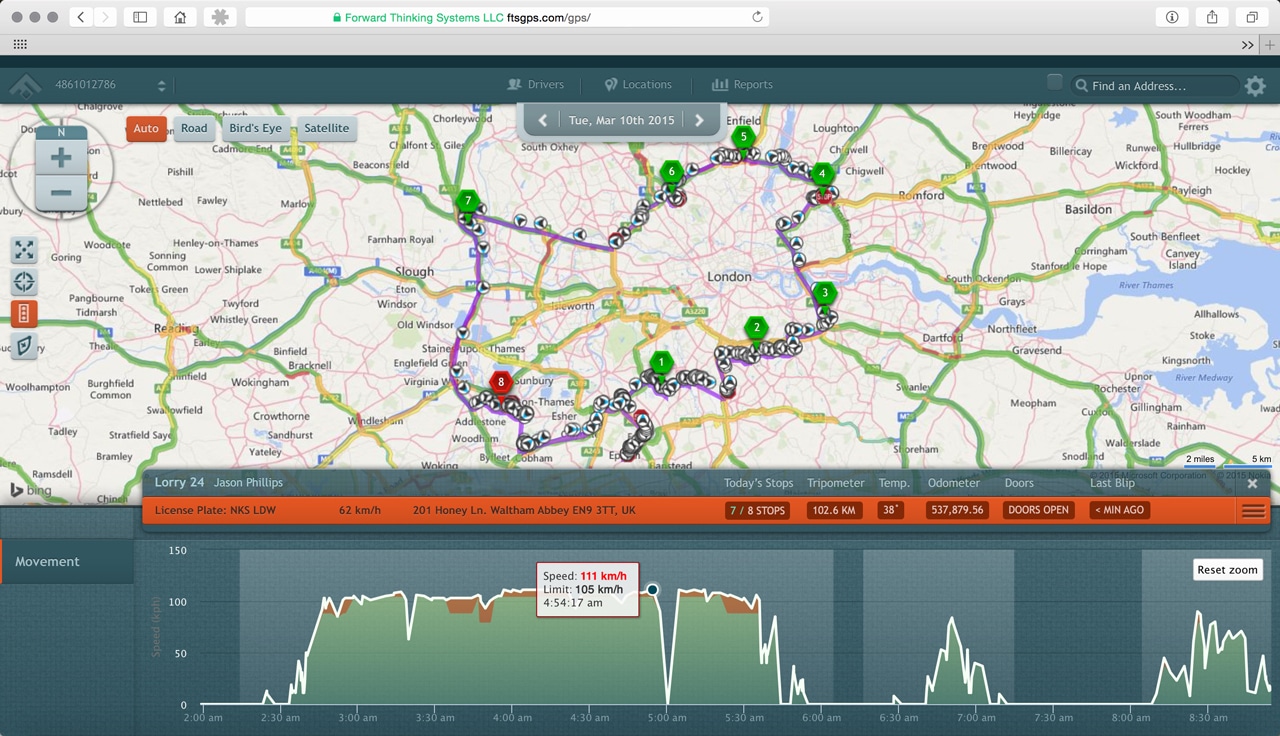 The graph will record everything from speeding violations, from when the engine was turned on and off and its location history.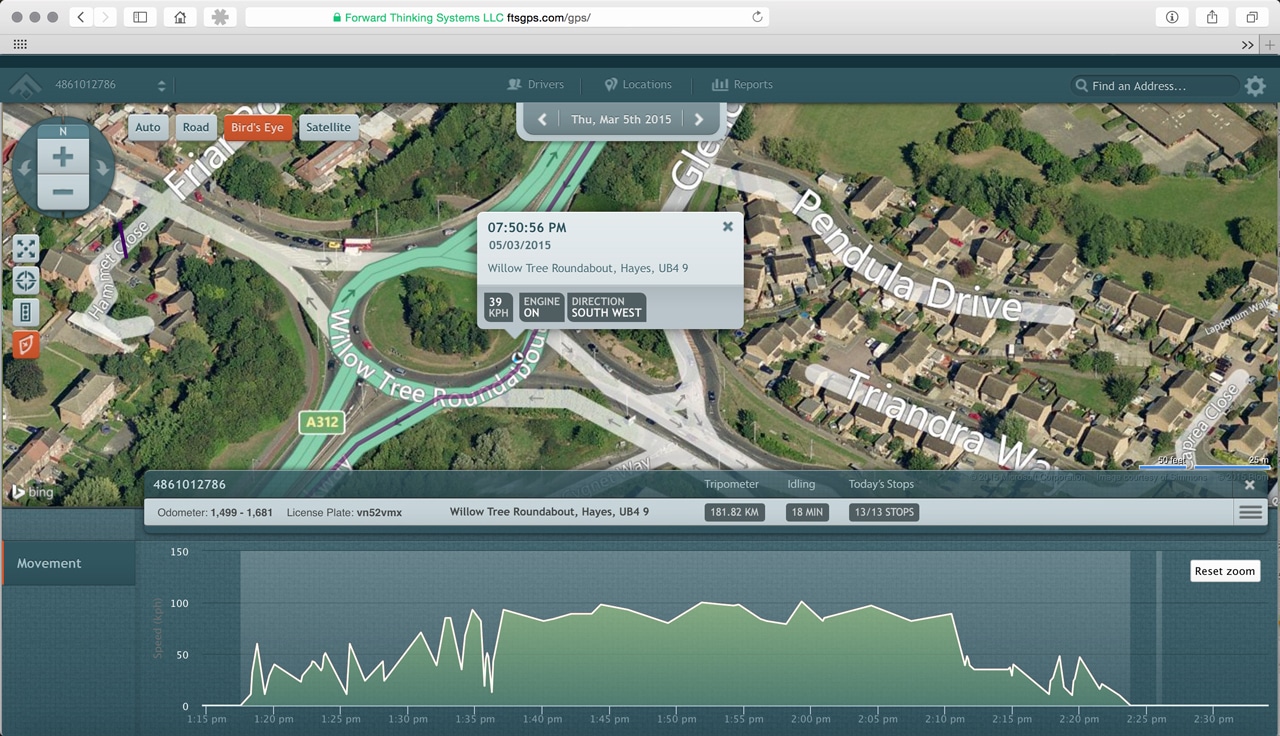 Forward Thinking telematics will improve driving behaviours
The Forward Thinking telematics system also makes it easier to monitor driver behaviour, particularly to find those who are inefficient drivers.
The reports on accelerating and harsh braking, as well as speeding, are well put together.
The purpose of these reports is to reward good drivers and help the bad ones get better through training. Forward Thinking does this by scoring a driver's performance and giving them a fair grade according to their behaviours.
This means that the 'bad drivers' really do stand out as being in need of attention.
The aim of the system is to improve a firm's bottom line by saving money and increasing productivity.
One of the ways they do this is to improve vehicle stops and drop-offs so the driver can improve their routes and communication between the fleet manager and driver is very good.
One of the reports also enables a fleet manager to choose the right vehicle for a particular job and the system will analyse the performance of a vehicle, its workload, driving time and distance travelled to calculate whether it – or another vehicle – would be more suitable.
Vehicle tracking alerts with Forward Thinking
Like other vehicle tracking systems, the Forward Thinking offering has a number of alerts and notifications that can be set which essentially micromanages a driver's working day.
The alerts can be delivered by text or email and will cover things like speeding – whether it's a road speed limit or a limit set by the fleet manager.
Maintenance events can also be set, as can a vehicle's registration and inspection schedules but mostly managers will find alerts about vehicle activity taking place 'after hours' more useful.
The system also alerts when the vehicle arrives and leaves a client or a pickup point and should the driver notify the system they are stopping then an alert will be generated for the fleet manager.
The system also create alerts if a vehicle idles for a set amount of time and whether the vehicle's battery voltage drops below a certain limit.
The main point about the alerts and notifications is that fleet manager or business owner will learn in real time about any unwanted activity taking place in a vehicle and react accordingly.
How to use data from a telematics system
In addition to having an attractive interface, Forward Thinking have also put a lot of thought into the types of report that can be generated from all the useful data generated.
These are succinct and easy-to-use and cover the obvious things like vehicle activity, mileage and its maintenance. The system also analyses speeding and braking, engine on and off times, engine idling and vehicle diagnostics.
The actual GPS tracker can either be hardwired into the vehicle or, as could prove useful to many businesses, it can also be plugged into the vehicle's diagnostic port.
All modern vehicles have such ports and they all work with the firm's tracking devices.
The Forward Thinking stand at the Commercial Vehicle Show was busy and those attending were impressed by the firm's commitment to improve productivity and profits.
One of the more interesting uses that we noticed on the day, is that some fleets were impressed by the firm's turn-by-turn commercial navigation system that enables drivers to use suitable roads for the vehicle they are in – that is not to send artics down tiny country roads, for instance.
Tracking and a return on investment
Forward Thinking says clients will see in an immediate return on their investment because the fleet will be better organised and there will be savings from payroll – the driver's timesheets are automated – improved fuel efficiency and better routing.
Billing disputes will be handled easily and there are possible insurance savings too.
This last point comes with a new addition to the Forward Thinking offering which is to install a camera in the vehicles cab to see what the driver sees.
We have highlighted before on commercialvehicle.com that when it comes to tracking software the introduction of cameras is starting to take off and will become more popular.
The main aim of the camera is to reduce false insurance claims – which should lead to lower premiums.
In addition, Forward Thinking says that having a camera on board will help fleet managers understand vehicle activity better and see how their drivers perform their duties on a daily basis.
Images are streamed live, there's no downloading from memory sticks or unplugging cameras from their installation.
The firm is using Smartwitness which is a HD video camera with 3G connectivity and, when connected to the telematics offering, it can record and save for later viewing, issues such as speeding and braking incidents – as well as accidents – which will help a fleet manager monitor for vehicle wear and tear.
Essentially, the Forward Thinking vehicle tracking offering is a 'belt and braces' approach which is easy to use and will do everything a fleet manager or business owner wants from their telematics facility.