For any fleet owner looking for vehicle tracking, the range of potential solutions is huge and made more complicated by the growing popularity of video recording too.
The Lytx offering is slightly different because they offer a video event recorder called DriveCam which includes fleet tracking.
It makes sense really; the firm uses GPS data to help give fleet managers a real-time view of where their fleet is and what it is doing.
This is obviously a big plus for improving productivity and ensuring compliance.
The real-time status within the Lytx vehicle tracking interface reveals the vehicle's location and its direction of travel and there's also a list of recent trip details including mileage and the stop-start times.
There's also mapping of any speed violations and emails are sent when these occur.
Lytx vehicle tracking offers a breadcrumb trail
We quite like the idea contained within the trip history of the vehicle tracking software providing a breadcrumb trail to show whether the driver has deviated from their expected route.
This history also reveals the duration of stops and deliveries, highlights driving violations any unauthorised use of the vehicle and also speeding and risky driving issues.
It goes without saying that any incidents of collisions are also recorded – and reported instantly. The on-board camera will also record these.
Like many other vehicle tracking solutions, the geo-fence facility enables a fleet manager to define a boundary and monitor whether a vehicle goes outside, or indeed inside, a specified geographic area.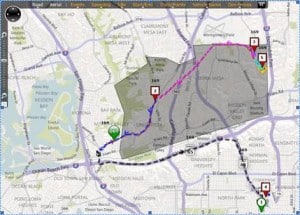 When this facility is triggered, an alert will be sent by email and the fleet manager can also view the historical list previous triggers to see whether there is an issue that has to be addressed.
All of the reports within the Lytx vehicle tracking system are configured by time and date and also by driver.
This means that a fleet manager can access a daily fleet summary, examining speeding and geo fence violations and examine the driver's trip history very easily.
Lytx's 'DriveCam Online' offers fleet risk management
As mentioned previously, the system is designed to integrate seamlessly with Lytx's 'DriveCam Online' which offers fleet risk management in an accessible format.
Everything on the user's dashboard is displayed in an easy to understand format and includes accessing the fuel and safety information about the firm's fleet and there's information too about productivity and compliance issues.
There's no need for any extra equipment, peripherals or indeed any other software since fleet tracking is made available at the flick of a switch.

The Lytx pedigree was developed in America and when the tracking system is used in conjunction with DriveCam, the firm really does have an all-round excellent system.
The aim of DriveCam is to improve driving standards by focusing on where driver errors occur.
The firm says that around 90% of all vehicle collisions are down to driver error and this creates risk for the fleet – not mention insurance and repair costs, reputational damage and downtime for the driver and vehicle.
Lytx: Know what a driver is doing behind the wheel
By knowing what a driver is doing behind the wheel of the vehicle, a fleet manager can improve driving behaviours and have consistent good and safe driving standards enforced across the fleet.
Lytx highlights the fact that by reducing the number of collisions and accidents, a fleet will see fewer insurance claims being made and a boost to their maintenance and fuel costs.
To enable this, DriveCam records driving behaviour and will provide real-time driver feedback.
The interesting thing for a fleet manager is that the video and driver data is analysed by proprietary data analytics and the video can be reviewed by experts to highlight the cause of poor driving.
This means that an expert can give feedback to help prioritise any actions needed to help reduce operating costs and fleet risks.
In addition, a fleet manager can easily manage a driver and then configure alerts via the dashboard to highlight when poor driving occurs and to analyse why it happened.
Vehicle telematics will boost driving standards
From the analysis, flexible training and coaching methods can then be brought in to help boost driving standards which the fleet manager can continue to monitor to ensure that the driver has learned from their mistakes.
Lytx even promises to work with a client to ensure their 'drivers get home safely'.
As we have highlighted previously on commercialvehicle.com review of telematics software providers, the issue of vehicle tracking is developing quickly and is now so much more than looking at where a vehicle has been.
Now the systems are joining up to boost road safety for vehicles and staff and boost productivity and profits as a result.
On the one hand, Lytx provides a basic but useful vehicle tracking and telematics offering that will do what most fleet managers would be looking for.
And on the other hand, the firm offers a suite of software, including DriveCam, that can take vehicle tracking into new realms to really drill down and utilise the benefits of telematics to deliver real-world benefits and improve safety at the same time.
There's lots be said for the DriveCam system and should a firm be looking at shortlisting several different types, then the Lytx product is certainly worth a closer look.