One of the emerging players in the tracking and telematics market is foresolutions who have an impressive offering across a number of different brands.
Their straightforward GPS tracking – foretrack – offers a web-based facility to manage a vehicle fleet around the clock.
The company has a growing reputation that enables them to help clients to mitigate against the business risk that comes with road incidents, failed deliveries and incorrect routing.
The foresolutions system offers fleet managers an ability to monitor and take corrective action to help benefit the business in real time.
This system is intuitive and easy-to-use and gives real-time locations for all drivers in the vehicles and it should also help reduce fuel bills by helping plan more efficient routes and boost driver standards.
There's also a nice gadget that enables a business owner to turn the vehicle off remotely to help guard against potential they have.
Foresolutions' foretrack will impress
The system will also show when a van has arrived at a client's address, a particular boon for some customers and van fleets.
Like many other tracking and telematics offerings, this from foresolutions highlights potential problems with vehicle wear and tear and helps with driver training to reduce potential incidents.
The bottom line for their main offering is to boost the number of jobs a firm can complete every day and to ensure that it allocates an appropriate vehicle that the job demands.
The firm says that its system can also be adapted for bespoke demands from clients and their offering is dealt with via an extensive dealer network.
This enables clients, say foresolutions, to enjoy a local customer service and that any problems that arise are handled effectively and quickly.
The firm was attracting lots of attention at the 2015 CV Show and the team at commercialvehicle.com was particularly taken with its 'CompleteFleet' offering.
Foresolutions' CompleteFleet offering combines the best of telematics
This is a pack which combines a suite of telematics as well as ways to improve driver behaviour, includes a forward-facing in-cab camera to help record incidents and enables ongoing driver training to take place (essentially, a business owner can keep a track that the training that is undertaken actually works).
For us, the upfront promise to:
Reduce fleet insurance costs by up to 50%
See a genuine reduction on a firm's fuel costs
The reduction in maintenance and repair costs
Have better control of a mobile workforce
Are all striking promises to entice potential customers and, from what we saw, this can be achieved.
foresolutions uses cloud-based management solutions to enable driver and vehicle management and also carry out risk assessments for the employee and employer.
CompleteFleet also includes licence checking
There's also the addition of automated licence checking – a growing issue in the future – and a promise to make a measurable and 'real difference' to a business.
The pack is not just aimed at fleet users, firms with 'grey fleets' can also benefit from this telematics offering.
These grey drivers can also enjoy training and development programmes to help make them safer on the roads.
The firm has developed a telematics-driven insurance product that, it claims, will significantly reduce the cost of cover for a fleet. Though the insurance must be used with their 'business and driver development tech pack'.
Another growing trend for telematics firms is to offer a fuel strategy which sees them utilising the data from fuel card use.
This means that a company can manage their mileage capture and deal with fuel card fraud and the inappropriate use of fuel cards by employees.
This CompleteFleet telematics offering can help choose a future fleet
Some fleet managers may also be taken with the ability to have their CompleteFleet software establish the best way of acquiring a fleet by assessing a potential strategy for and the on-going management of a fleet and how to replace vehicles.
The firm is generating some very impressive client testimonials by those who've used the driver and tech packs and, foresolutions warns, nearly a third of all crashes in the UK involve vehicles that are being driven for business purposes.
This means that employers have a duty of care to reduce the likelihood of their staff being involved in a smash and being off work through any injuries.
With the growing chance of litigation, the foresolutions also points out that by using its software, a firm will reduce the chance of court action and see a reduction in their insurance premium costs.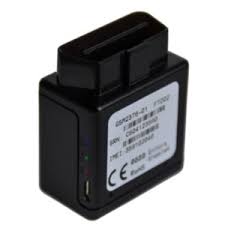 Among the range of vehicle tracking solutions from foresight there's a useful a plug and go vehicle tracking device for those who don't need the complexities of an extensive reporting suite.
The foresolutions system is easy-to-use and it's also quite attractive and offers live vehicle traffic monitoring on any Internet-enabled device.
Telematics make filling time sheets redundant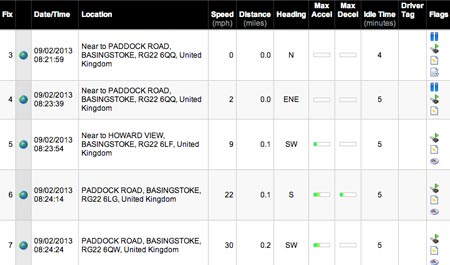 Their software also makes timesheets redundant since their reports will produce working hours and overtime sheets.
The foresight offering is quite broad and they also offer solutions for lone workers and portable GPS tracking, for instance.
Like many of its competitors, the foresight Foretrack GPS system offers real-time vehicle location as well is offering historical data of the vehicle's site visits, routes, speeds, behaviours and idling times.
Fleet managers can set a number of alarms and alerts which are then sent directly to an email inbox or to a mobile phone and users can also set unlimited geo-fence areas and customer locations.
Among the reporting suite is a fuel usage calculator and many users may find the fleet utilisation reports particular helpful.
There's also the ability to add extra data, such as when an MOT or a service is due.
The vehicle system can also be monitored, especially helpful for a firm running refrigerated trucks since the temperature can be monitored remotely.
In an increasingly crowded telematics field, the foresight offering is not only impressive but easy-to-use and dealing with the varied demands of business vehicle fleets in the UK – and their promises help them stand out from the crowd.