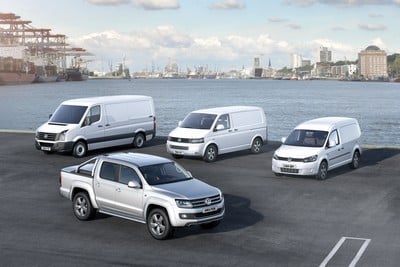 The growing importance of telematics to fleet managers and business owners has been underlined by the fact VW vans is to introduce its own telematics system from next month.
Volkswagen's real-time data will help fleets reduce their fuel costs, increase productivity and improve driver behaviour.
VW Commercial Vehicles' head of service, Kevin Rendell, said: "Companies are investing in telematics because running a cost-effective fleet is important to maintain a profitable business.
"The VW telematics system helps companies to reduce their fuel costs and extend the lifespan of components and parts as well as optimising vehicle efficiency."
VW vans offer telematics
The firm is also keen to point out that the system can be fitted to most vehicles and will be of huge benefit to mixed vehicle fleets.
VW commercial vehicle says its cost-effective telematics system will make life easier for fleets around the UK because it will improve running costs, efficiency and reduce fleet downtime.
The telematics system is being run in conjunction with the RAC and can be accessed via tablet, smart phone or laptop.
VW vans' Driverline concierge system
There's also a concierge service called 'Driverline' which will contact customers to proactively book services and maintenance appointments as part of a move to help manage a vehicle's downtime.
Other benefits of fitting the fleet telematics service from VW vans is that it will monitor fuel economy and CO2 emissions, collision detection and geo-fencing.
The units also offer location tracking, odometer, vehicle diagnostics and driver behaviour.
Available via Volkswagen's van centre network from February 2015, the telematics units are being offered on a rolling monthly contract £12.50 a month, ex VAT, for 36 months.