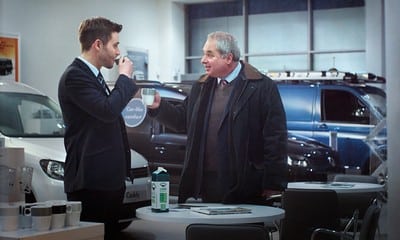 A new advertising campaign is set to hit our screens to highlight how VW vans works closely with customers.
The ads are also on YouTube and are aimed at Volkswagen Commercial Vehicles' commitment to their customers and their businesses.
The new campaign is aimed squarely at men aged between 25 and 54, also known as ABC1 male, and features a family man and business owner called Bill who runs a fleet of VW vans.
VW vans offer customer support
The VW vans campaign is centred on the question about who looks after the person who is looking after everyone else?
In the ads, we can see Bill's dedication and passion for his business and for his staff as well as his customers.
This commitment is mirrored by the team in Volkswagen Commercial Vehicles who are as 'equally committed to their customers'.
VW vans TV campaign is launched
The campaign first appeared in 2013 and it used many real-life customers to help portray the level of customer support given by VW vans.
Last year, VW focused its attention on other media tie-ups by sponsoring TV programmes and working with newspapers such as the times.
The head of marketing at VW vans, Kirsten Stagg, said: "Our campaign is in its third year and this phase is designed to build on that success.
"It will increase brand awareness and convey our partnership as being a key objective. The idea is that our customers look for a long-term relationship with VW that goes beyond the initial van purchase."