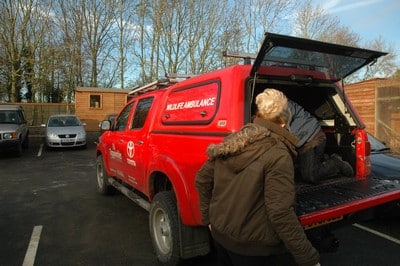 A specially adapted Toyota Hilux is proving to be a huge asset for the famous animal hospital, Tiggywinkles.
Toyota provided the organisation with its Hilux Invincible Double Cab model last year and the vehicle was specially adapted for higher ground clearance and the addition of a snorkel exhaust unit.
The idea was to help the all-wheel drive vehicle tackle rough terrain and deal with flooded roads which would block most other vehicles.
Toyota Hilux used to rescue wildlife
In addition, the Toyota Hilux has been fitted with a Truckman top, a high mounted LED lighting bar, a roof rack, towbar and a front winch.
Indeed, the abilities of the excellent Toyota Hilux were put to the test recently when staff from the wildlife hospital rescued two muntjac deer.
They could only do so because of the Hilux's impressive off-road capabilities.
After treatment, both deer recovered well, they were loaded into special 'deer boxes' that help keep them calm and content for their journey for releasing back into the wild.
Toyota Hilux is a great performer
A spokesman for Tiggywinkles said: "We use the Toyota Hilux's 4×4 capabilities for reaching these release sites because we need to be well away from roads which means going along muddy tracks and fields."
Tiggywinkles, which is based near Aylesbury in Buckinghamshire, rescues and treats more than 10,000 wildlife casualties every year and is the world's busiest such hospital. It deals with everything from badgers and hedgehogs to swans and deer. The organisation runs entirely on donations.