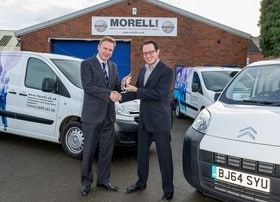 Leading automotive refinishing supplier Morelli Group has added 15 Citroen Dispatch vans to its fleet around the UK to help deal with its growing workload.
The L2H1 Enterprise vans have HDi engines with a six-speed manual gearbox for an impressive business offering.
The vans are being brought in to replace a number of vans that have reached the end of life after the firm undertook a major expansion in its operations three years ago.
Citroen Dispatch impresses business customers
Some of the new fleet will be delivered to the firm's new Coventry depot to join a fleet of 48 Citroen vans that the firm has dotted around the UK. The firm also runs 27 Citroen cars.
The financial director of Morelli Group, Robert Cohen, said: "Citroen vans are ideal for high mileage, intensive operation and provide excellent driver safety and comfort with reliability and a low-cost operation."
He added the Citroen offer of defined trim levels in its business offer rather than having a long list of options helped to make ordering the vehicles easier.
Economy and performance for the Citroen Dispatch
The new Citroen Dispatch vans have a fuel economy of 44mpg and CO2 emissions of 168g/km – one of the best performances in its sector.
The standard spec includes rear parking sensors, air con, Bluetooth connectivity and a full steel bulkhead.
In addition, the vans also have stolen vehicle tracking and satnav equipment fitted.
Indeed, the van review team at commercialvehicle.com were impressed with the revamped Citroen Dispatch, particularly its low running costs.
Citroen Dispatch is 'value for money'
However, the team also found that when fully loaded the suspension was a great performer which helped the van's excellent driving abilities.
Reviewers were also impressed with the strength of the engine at low speeds and when pulling heavy payloads – its performance on the motorways at speed also impressed.
Morelli were probably of a similar thinking when we described the Citroen Dispatch as being a great all-round van which provides value for money.