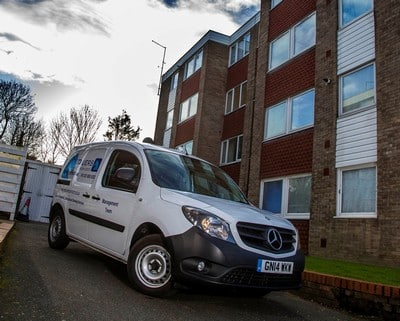 Problems with a fleet of 85 vehicles has led to an award-winning cleaning firm in South London switching to using mainly Mercedes Citan vans.
As result, Chequers Contract Services has seen a boost in reliability and fuel efficiency.
The specialist building services and cleaning firm made the move to Mercedes more than 18 months ago and is planning on replacing all of its non-Mercedes vehicles within the next three years.
Most of the new vehicles are the impressive long an extra-long Mercedes Citan 109 CDIs which were launched in 2013.
The van is also the smallest in the Mercedes range.
Mercedes Citan impresses London firm
In addition, the company is also running Mercedes Sprinters to help the firm deliver its services to local authorities, schools and housing associations.
The firm's Gary Jeal said: "As we add more Mercedes Citans to our fleet, our running costs have fallen and we have cut our yearly fuel bill by 25%. This is a considerable saving."
He added that his workers who use the Citan say it's a better vehicle to drive than the ones it replaces and a more able all-round performer for their needs.
The Mercedes Citan is an excellent choice for firms and should deliver around 66mpg while having CO2 emissions of 112g/km.
Mercedes Citan offers fuel economy and performance
The van comes in three lengths; long, extra-long and Compact and has a load area of 3.8 cubic metres. It can carry a maximum payload of 735kg.
The feedback from workers at Chequers underlines the findings of the review team at commercialvehicle.com who found that the Mercedes Citan was a 'great performer'.
The team praised its abilities, particularly the fact it drives just like a Mercedes car and has lots of refinement.
Indeed, our reviewers were so impressed they nearly gave it full marks and said that the Citan sets the benchmark for the small van sector.
Not only is it a strong performer at speed on motorways, it's also agile enough to enjoy around towns and cities and owners will find a solid and reliable van designed to offer high levels of excellent service.