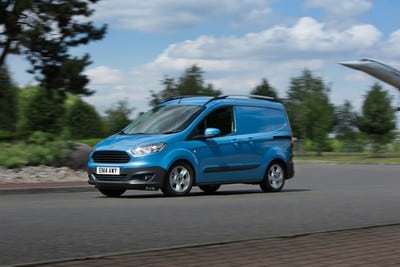 The best-selling LCVs in the UK are Ford vans and the firm reports its market share of the CV market has grown.
The results relate to January and the new Ford Transit is proving so popular that its sales would put it third in the list of total vehicle sales.
The firm says it sales grew in January by 28%, year-on-year. They managed to shift 6,481 commercial vehicles in that time and its light commercial sales rocketed to 1,740 from 604.
Ford's share of the LCV market in the UK now stands at 25.5%, up from 12.3% year ago.
Relaunched Ford vans range push up sales
It's been a busy time for the Blue Oval which relaunched many of its commercial vehicles last year and the firm knows that its Transit line, including the Transit, the Courier, Connect and Custom now dominate the top three places in their respective market segments.
This fact also extends to its Fiesta van and the Ford Ranger.
The firm's managing director, Mark Ovenden, said that the revamp of its CV range helped to boost sales and they now intend to revamp their car range too.
Ford vans help a strong start to 2015
He added: "Our strong start in sales to 2015 is building on the momentum sustained through last year and it's a result of the investment in our exciting products and industry-leading technologies."
It should come as no surprise that the Fiesta Van is doing well since it's based on the excellent platform provided by the Ford Fiesta, the UK's bestselling car.
Ford has traditionally dominated this part of the market and with the Fiesta Van it will continue to do so despite decent offerings such as the Vauxhall Corsavan.
Commercialvehicle.com reviewers recommend Ford vans
Indeed, the review team at commercialvehicle.com were also impressed with the new Transits – we called the Ford Transit Connect 'nothing short of brilliant' for what it is meant to do.
We also gave it the rare accolade of awarding it 5 out 5 as our assessors enjoyed its car-like handling and the fact it's a cheap van to run.
With Ford vans doing so well in the country's LCV sector, we can only expect further announcements of their continued success which has been underpinned by their excellent van offering.