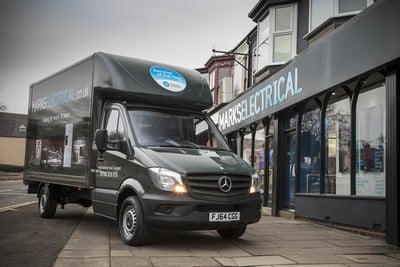 The shortlist of replacement vans for Marks Electricals wasn't very long and after 15 years of reliable service from Mercedes vans, the firm has opted to use the Mercedes Sprinter.
The Leicester-based company had enjoyed years of cost-effective service from the vans and essentially wanted to continue doing so.
The latest addition to the firm's fleet of vehicles are 15 new Mercedes Sprinter 313 CDI vans with the long chassis cabs.
The new vans are now hard at work delivering a range of household electrical items and white goods on Sprinters that have been fitted with lightweight Ecofont Luton bodies and tail lifts.
Mercedes Sprinter really will deliver
The firm's managing director, Mark Smithson, said: "The new Sprinters have replaced older versions which had been extremely reliable.
"We have used Mercedes vehicles for 15 years and they are consistently dependable.
"A key element for our service is that our deliveries arrive when they are promised and the Mercedes Sprinters help to do that."
Mr Smithson went on to praise the build quality of the Mercedes Sprinter along with the firm's roadside assistance Service24h though the firm has very little use for it.
Marks Electricals use Mercedes Sprinter vans
The company has sold more than 1 million appliances since its establishment in 1987 and they have also developed a thriving online shopping business too.
There's no doubt that the Mercedes Sprinter sets the benchmark in its segment, here at commercialvehicle.com our review team was more than impressed with their latest model.
Our testers praised the van for having a quiet ride and an improved interior and praised the revamped for taking the Sprinter to new heights.
The Sprinter also has excellent handling and its build quality is second to none.
Essentially, our review team believes that the Mercedes Sprinter is the van to beat for many reasons; especially for those who need to cover lots of miles for business success.