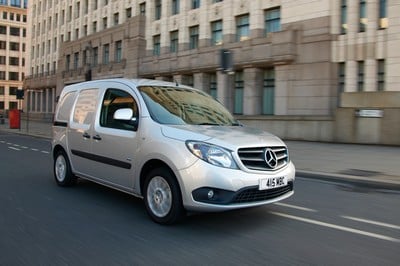 Mercedes Benz vans has announced that its celebrating its best ever van sales performance in the UK ever after more than 35,000 customers registered new vehicles in 2014.
There have been eight consecutive quarters that the firm has managed to set new sales records and last year registrations increased by 16% over its 2013 sales – which was also a record setting year for Mercedes Benz vans.
When the figures are examined, with the exception of September last year, the firm recorded more sales in every month compared to the year before.
Mercedes Benz vans sales led by the Sprinter
Among their best performers in terms of sales is the excellent Mercedes Benz Sprinter van which saw sales rise by 12% and also the incredible Citan which saw its sales rocket by 39%.
Both of these vans received very good reviews on commercialvehicle.com, especially the Mercedes Benz Citan which impressed in every department.
However, the firm's Sprinter Chassis Cab recorded an impressive increase of 50% in sales or sales of the Mercedes Benz Vito remain at the same level recorded in 2013.
Mercedes Benz sales and parts also do well
Mercedes Benz are not just recording an increase in sales, their service and parts sector grew by nearly 9% via its commercial dealer network.
The workshops in the network have seen nearly 4,000 Mercedes Benz vans been booked in for servicing – around 27.5% of all vans sold now have a service contract package.
The van maker is also proud to announce that its Service24h roadside assistance scheme is delivering class leading roadside repairs within 58 minutes of being called in 83% of cases.
New buyers of Mercedes Benz vans are also taking advantage of the firm's financial services and finance deals grew by nearly 7% over 2013. Around one in three of the firm's vans are now paid for by using their own financing.
The managing director of Mercedes Benz vans, Steve Bridge, said: "We broke all records when we announced 30,000 new registrations in 2013 and it's a remarkable feat to announce more than 35,000 new registrations in 2014."