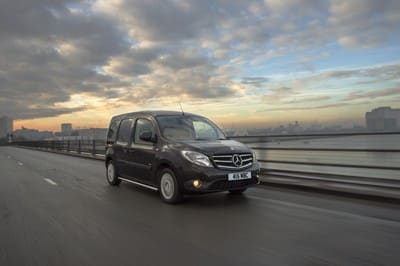 It will only be available in the UK and the Mercedes Citan Sport looks set to be a great addition to the firm's range of small vans.
The idea is that buyers will not need to 'spec-up' from a standard Citan but can instead buy a version that already has unique styling features and a range of options already available.
The Mercedes Citan Sport is the most effective way for business owners to grab themselves a distinctive small van that comes with premium additions but at a cost effective price.
Equipment for the new Mercedes Citan Sport
Mercedes is offering the new van in long panel versions with its 109CDI and 111CDI engines which offer excellent levels of performance.
The standard spec on the Mercedes Citan Sport includes a choice of six metallic paints, 16 inch light alloy wheels, colour-coded bumpers, tail light trim and wing mirrors.
Mercedes must have done its homework on its potential market because the Citan Sport also includes impressive standard kit such as a leather trimmed steering wheel, air con, daytime driving lights, chrome trim as well as Sports mats and badging.
Mercedes Citan Sport has performance and style
Peace of mind is delivered with the firm's three-year unlimited mileage warranty and its MobiloVan offering which will rescue drivers in the event of a warranty repair taking more than two hours.
Should the van breakdown, the Mercedes' Service24h will offer roadside assistance as standard.
Available to buy now, the Mercedes Citan Sport is part of the Vito Sport range which also includes the Vito Sport and Vito Sport X.
There's no doubt that the Mercedes Citan Sport is going to be an excellent addition to what is already an impressive van line-up.
Review of the Mercedes Citan Sport
When the commercialvehicle.com testing team put the Citan through its paces in its review we said that the van was definitely a Mercedes with excellent abilities.
Indeed, our testers said the Mercedes Citan is the vehicle that sets the benchmark for what is a competitive sector and now the new Sport version will help to broaden its appeal.
Essentially, the Citan is a solid and reliable van that's a strong and agile performer in urban environments but it's also great performer on the motorway too which all help to make the new Citan Sport van very popular.