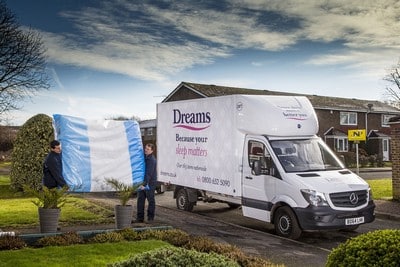 Owning a Mercedes Sprinter is a dream for many owners but for one firm it means replacing their entire fleet with new versions of this impressive model.
Bed specialist Dreams already has 29 Mercedes Sprinter 313 CDIs in its fleet as it replaces the vans with newer versions.
The new vans also have the firm's new livery too.
Throughout 2015, Dreams will take another 53 Sprinters with chassis cabs to help the firm's two-man teams deliver beds to customers.
Dreams puts it faith in the Mercedes Sprinter
There's no doubt that the firm has been impressed with the performance of their Mercedes Sprinter fleet over the years and are prepared to put their faith into the van's renowned low operating costs and impressive levels of reliability for more years to come.
The firm's distribution controller, Shaun Bullock, said: "Our fleet of Sprinters dates back to 2004 and some of the older vehicles have clocked up more than 400,000 miles and are still going strong.
"The Mercedes Sprinter has proved to be a brilliant workhorse over the last 10 years and we are confident that the new fleet will be just as cost-effective and reliable to operate."
He said that the firm's delivery teams were looking forward to their new vans and the firm was impressed with the level of customer service from dealers who were prepared to repair the vans outside of normal hours.
Review of the Mercedes Sprinter reveals it's the 'van to beat'
Indeed, here on commercialvehcile.com our testers found in their review of the new Mercedes Sprinter was still the 'van to beat'.
Our testers were impressed with the improved interior and the fact the ride is quieter. It's also a better looking van after an exterior revamp.
When compared with the new Ford Transit range, the Sprinter – for us at least – still has the edge on its competitors thanks to its handling and build quality.
Essentially, the Mercedes Sprinter is an all-round great performer that will do nothing but impress and with its high-level of safety kit makes it an ideal investment for any business looking for a great workhorse.