When Suffolk-based Claret Civil Engineering wanted a fleet of reliable vans the Mercedes Sprinter came top of the list.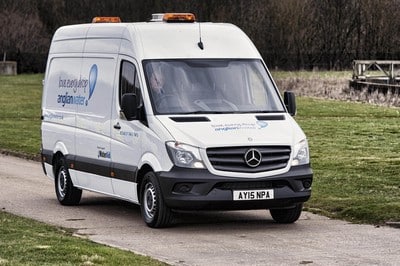 Now the firm has picked up 11 of the firm's 313 CDIs to help them complete their new order for repair and maintenance with Anglian Water.
Their criteria when searching for new vans included the need for outstanding reliability and a servicing plan that was competitively priced.
The new Mercedes Sprinters have been fitted with beacons, towbars, working lights and they have also been ply-lined to carry out their new duties.
Mercedes Sprinter aftercare covers parts and labour
The firm which is based near Eye have been impressed with the Mercedes service care contract which will cover all routine parts and labour costs.
Claret's managing director, Andy Gibbons, said when they won their contract from Anglian Water they knew they would have to increase the size of their van fleet.
He said: "We know the Mercedes Sprinter has an excellent reputation for durability and reliability but it also offers attractive running costs and leading safety."
He added that the variety of factors which included the aftercare service, an impressive contract and a high level of cover had combined to make a compelling business case for the Mercedes Sprinter.
Mercedes Sprinter will help repair pipework and assets
Now the van will help the firm maintain and Anglian's water recycling network which includes replacing damaged assets and repairing failed pipework.
The firm should enjoy many years of quality, reliability and service with the Mercedes sprinter – a van that was highly regarded by the review team at commercialvehicle.com.
Our team said the van has a quieter ride and an improved interior and it's an all-round better looking offering from Mercedes after its revamp.
One of the big attractions is its comfort levels on long journeys, the improved sound insulation makes it a very quiet vehicle while the improved fuel economy adds to its value.
Of the nine body styles in the Mercedes Sprinter arranged to choose from; there's one for nearly every business need.
In many ways, the Sprinter has the edge over the newer Ford Transit and has a more solid build quality.