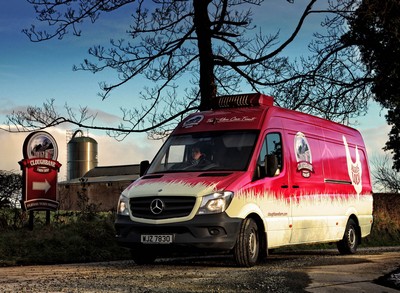 Why change the recipe for success is the mantra for an award-winning food producer in Northern Ireland who are sticking with their Mercedes Sprinter vans.
Cloughbane Farm has just replaced its duo of Mercedes vans which have racked up around 250,000 miles each.
They covered the distance in five years and provided faithful service to the Co. Tyrone firm.
Mercedes Sprinter vans will deliver for firm
Now they have taken delivery of two Mercedes Sprinter 316 CDI Long vans which will be working hard in the years to come.
Richard Robinson, director of the firm, said: "Based on experience, there was never any question of going elsewhere to replace them.
"The vans are working from 5.30am, six days a week, and cover large mileages so it's of paramount importance that they are reliable.
"Our previous Mercedes vans were dependable and we are confident that our new Mercedes Sprinter vans will be just as good."
Higher comfort levels in new Mercedes Sprinter
He added: "Our drivers love the new vans because comfort levels are higher. We've also specified the reversing camera to make manoeuvring easier and safer."
The firm has signed up to a package that delivers three years' servicing including fixed price parts so they can budget with confidence without any unexpected surprises.
The family firm has been farming in Cloughbane for 150 years and opened its first farm shop 13 years ago.
Since then they have diversify into producing high quality burgers, sausages and ready meals – all with their own farm-raised meat.
Review of the Mercedes Sprinter – it's a winner!
The new Mercedes Sprinter vans will deliver the firm's products across Northern Ireland and into Eire too.
The firm will enjoy the new vans, the testing team at commercialvehicle.com reckoned the new Mercedes Sprinter will suit just about any job and we nearly gave it full marks, praising its improved interior and smoother ride.