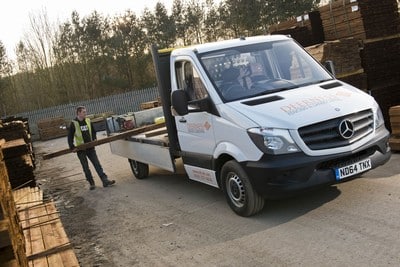 A fencing and landscaping contractor is adding five new Mercedes Sprinter vans to its fleet after being impressed with their performance.
Deerness Fencing and Landscaping runs a 45 strong fleet and its first batch of new Sprinters, they have opted for the 313 CDI model with long chassis cabs, have been delivered.
The new vehicles also come with dropside bodies and have been put to work across the north-east of England helping work teams on new build housing projects, public buildings and schools as well as retail and industrial sites.
The managing director of Deerness, Jim Bates, said: "The Mercedes Sprinter is used to ferry tools, materials and staff to and from work locations.
"They have a good carrying capacity in terms of volume and weight and at 3.5 tonnes gvw they can also be driven by any company team member who has a standard driving licence."
Mercedes Sprinter has impressive performance
Until recently, the firm favoured another van maker and tried the Mercedes Sprinter on hire and was impressed with their performance.
There's a lot to be impressed about with the Mercedes Sprinter and the review team at commercialvehicle.com hailed it as the 'van to beat'.
The reviewers nearly gave it full marks and praised its looks after a revamp last year which led to a quieter ride and a much improved interior.
While the industry was expecting a facelift, the revamp led to a wider overhaul which included a boost to fuel economy.
For travelling long distances, the Mercedes Sprinter is excellent on motorways with improved handling.
The Mercedes Sprinter range
The range offers a lot for businesses with several body styles available and a variety of options to make it suitable to a wide number of uses.
The Sprinter has an excellent range of safety equipment and is built to take a lot of punishment while being an assured performer with its solid and reliable build.