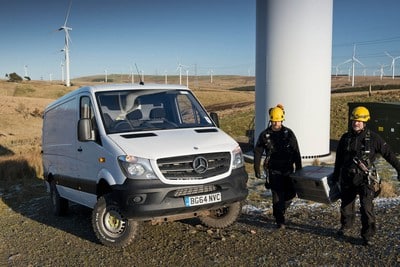 The all-terrain capabilities of the Mercedes Sprinter 4×4 are the reason why Siemens have opted to use the van to maintain their giant wind turbines.
The firm's engineers have to travel to some of the remotest parts of the UK to undertake their crucial maintenance work.
To help do this, Siemens has ordered a fleet of 50 Mercedes Sprinter 4×4 vans and they are now entering service.
Before they do, a Telford firm is fitting electrical equipment which includes inverters to power the engineer's tools.
There's also a section on board each Mercedes Sprinter for the drying of clothes.
Mercedes vans fleet will be working hard
The new Mercedes vans fleet will be working hard; Siemens generate around half of the country's wind power generated electricity.
The firm's Paul Tate is responsible for the vehicle fleet and he said: "We have a commitment to the Mercedes Sprinter 4×4 as it is the best in class for reliability, payload capacity and off-road capability.
"Our engineers find themselves out in all weathers and they need a vehicle that will not let them down and our experience has proved that the Sprinter is more than equal to the job."
The Mercedes Sprinters being used by Siemens are factory built rather than being an aftermarket conversion and the vehicle sits slightly higher than its counterparts.
The Mercedes Sprinter 4×4 also has rear wheel drive when on the road and all-wheel drive for more difficult terrain.
Mercedes Sprinter 4×4 has electronic traction system
Rather than using differential locks to prevent wheelspin, the Mercedes Sprinter 4×4 uses an electronic traction system developed by the vanmaker to help prevent skidding and boost traction.
Siemens says it was also impressed with the aftermarket support to help make the decision to use Mercedes Sprinter vans an easy one.