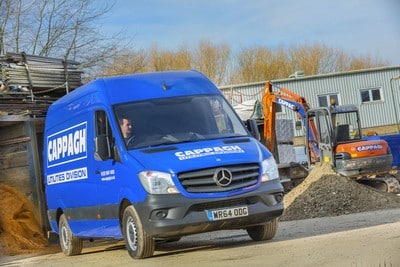 When it came to buying a new fleet of vans for its civil engineering work, south London-based Cappagh didn't just immediately opt for Mercedes vans.
Instead, the firm diligently sought out which vans would be the best for its purposes and in addition to taking demonstrators on trial, the firm also asked various rental firms and other operators about potential vans.
The Mercedes vans Sprinter came out well with just about everyone.
Cappagh's transport manager, David Fahey, said: "In terms of reliability, the feedback was resoundingly positive.
"Because of the service commitments we give to our customers, reliability is the most important attribute we look for because unplanned downtime is something we can't afford."
Cappagh takes the Mercedes vans Sprinter 313 CDI.
The first batch of Mercedes Sprinter 313 CDIs in medium length format have already been delivered.
These excellent vans will undertake general utilities duties and will need to pull trailers that will be used for carrying 1.5 tonne diggers.
The vans will be painted in their own blue colour scheme which will be applied at the Mercedes vans factory.
The vans will be used to carry two-man crews who need to respond quickly to pipe blockages and leaks and so the vans will be fitted with a racking systems, jetting units and Hope Safe-T bars.
The firm will also be adding reversing cameras to the vans and enjoy a whole host of passive and active safety features which come as standard.
Mercedes vans get thumbs-up from crews
The firm says that the vans have been received well by their crews and they are looking at having the vans for a long time to come.
Cappagh is also taking 10 Mercedes Arocs tipper grabs to add to their fleet of 30 FUSO Canter 7.5tonne vehicles.
A spokesman for the firm that has delivered the fleet of Mercedes vans said: "We understand that operators are looking for a reliable fleet with a top quality care package which is what these vans will bring."
Here at commercialvehicle.com, our van review team found that the Mercedes Sprinter offered the very best in vans for most needs and that the vehicle was a hard act to beat.
When the van was relaunched last year it provided better fuel economy to help polish off an impressive product and potential buyers can now choose from nine body styles – there's something to suit every need.