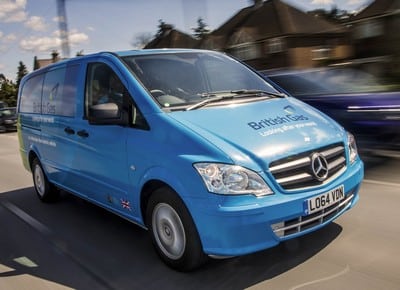 The emissions-free Mercedes Vito E-cell was the choice for British Gas for ferrying staff around its West London office locations.
The firm has invested in the all-electric Mercedes seven seat people carriers, the Traveliner, for their work.
The Mercedes Vito E-cell vans are now hard at work shuttling staff between eight buildings as well as from nearby railway stations.
This is the first step in the British Gas ambition to replace 10% of its 30,000 strong fleet of vans with all-electric vehicles.
As one of the country's leading provider of electric vehicle charging points, British Gas is an enthusiastic supporter of transport with zero emissions.
Mercedes Vito E-cell will help environmental commitment
The firm, which is also the country's largest home services and energy company, say the investment in the new vans will help to underline its commitment to reducing their environmental impact.
The firm's electric vehicle specialist, James Rooney, said: "We are committed to reducing carbon emissions and to minimise our operational impact on the environment.
"These new vehicles produce no pollutants and are exceptionally quiet and help to strengthen our commitment."
He added: "Mercedes is regarded as being a leader in emerging technologies which is why we chose the Mercedes Vito E-cell.
"Our experience is that Mercedes vans are reliable and we already have seven Sprinter minibuses in operation and we've also introduced several more automatic transmission minibuses at our Leicester site."
Zero emission credentials boost with Mercedes Vito E-cell
The Mercedes Vito E-cell vans have eye-catching liveries which declare their zero emission credentials and they are parked at charging points at the front of the firm's impressive building.
As well as the Traveliner, the Mercedes Vito E-cell is also available in a panel van version.
Indeed, the Vito E-cell was the first battery-powered van to be built in a mainstream factory facility.
Buyers will be able to enjoy an electric motor that produces 82 HP which powers the front wheels and the battery is stored beneath the load floor and does not encroach on the cargo or passenger space.