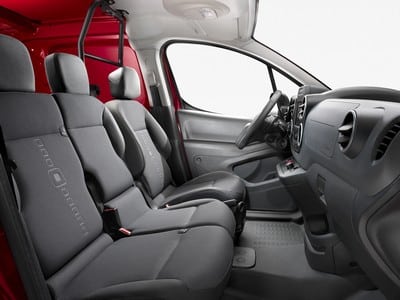 The Citroen Berlingo is being revamped with an impressive update which will see the van continue to dominate the LCV sector.
The Berlingo has been a big seller for the van maker which has managed to shift really 3 million units since its launch in 1996.
The new version will essentially deliver what has become a pioneering vehicle in the van and leisure sectors. Indeed, Citroen describes the van as being 'cheerful, modern and ingenious'.
The new Berlingo will be unveiled at the Geneva motor show where fans will see that there's a new exterior design, especially the front end.
New designs for the Citroen Berlingo
Citroen are also adding new colours to the line-up and the van will retain its three modular front seats in its cabin.
The cabin has been thoroughly redesigned and the new upholstery designs for owners.
The Citroen Berlingo also comes with improved technology to help in its everyday use including a 7-inch touchscreen which brings the van's navigation and media systems together in one place.
From November, the new Berlingo will also have active city brake, front parking sensors and a reversing camera.
Economy for the new Citroen Berlingo
There's also a new generation of Euro 6 diesel engines being introduced which in the BlueHDI 75 van should see fuel economy of around 66mpg and CO2 emissions of 110g/km.
For business owners the Citroen Berlingo will have a range of payload and equipment to suit a range of needs.
It still available in two lengths, the L1 (up to 3.7 cubic metres) and L2 (up to 4.1 cubic metres) and the loading space will take two Europallets.
If the owner doesn't need three seats in the front, they can fold one of them to create more floor space for longer loads of up to 3 metres.
New electric Citroen Berlingo
The middle seat also folds flat to provide a tabletop workspace and there's a storage compartment underneath that which is 7.5 litres in size. This storage compartment can also be padlocked.
However, one of the newest version should create a lot of interest and that's the new electric version of the Citroen Berlingo.
Citroen says this will set the standard for electric vans and will have a range of 106 miles between charges. The battery will also charge automatically during braking and deceleration.
The election van has a power output of 67 HP and will accelerate quickly up to 70mph to join flowing traffic.
There's no indication of prices but it looks like the new Citroen Berlingo will be in showrooms from the summer.