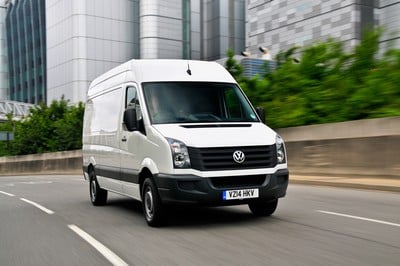 Volkswagen Commercial Vehicles has announced a raft of new finance offers for the brand's acclaimed range of vans.
The firm says that the offers are designed to meet the needs of commercial van buyers and offer affordable prices which are backed up with unrivalled levels of customer service.
The new deals will be available from the end of March and will include servicing plans, lower initial rental contributions and low monthly repayments.
Volkswagen Commercial Vehicles are now available on cheap finance
The new range of finance deals also include the firm's used commercial vehicles which is a boon for any business looking for a great van deal in 2015.
Volkswagen Commercial Vehicles highlights that buyers can now pick-up a VW Caddy from just £189 a month and enjoy an award winning vehicle that has class leading levels of reliability and practicality.
Indeed, this van offers excellent value for money under the firm's new finance offer.
Opt for the larger sibling, the VW Caddy Max and there's not only sliding doors on both sides of the van and extra load space but the chance to pick one up for £209 a month.
VW Transporter available on cheap finance
The VW Transporter is available from £239 a month, the VW Crafter from £299 and the luxury people carrier, the VW Caravelle, from £319 a month.
Indeed, the VW Crafter is the largest van in the Volkswagen Commercial Vehicles line-up and has load volumes stretching from 7.5 cubic metres to 17 cubic metres. The range also has a payload potential of up to 2,693kg.
The Crafter range also includes window and panels vans on a single or double chassis. Buyers can also opt for dropside or tipper versions and the fuel-efficient technology in the BlueMotion models.
VW service plans also part of the deal
For the first time VW is also offering a service plan for vehicles bought through their vehicle finance arm which will cost £1,491.
For more information visit Volkswagen Commercial Vehicles or call them on 0800 717131.
Also, the firm's highly regarded VW Transporter van also proved popular with the testers who write van reviews at commercialvehicle.com who said the van – which nearly scored top marks – was among the best vans available for transporting large cargo.